Romantic Strings · Vol. 1
Volume 1
Romantic Strings
Live recordings from Maulbronn Monastery and Bad Homburg Castle
featuring works for Strings and String Orchestra
by Elgar, Tchaikovsky, Dvorak, Mozart, Haydn, Beethoven, Bach, Valentini, Montanari & Corelli
HD Recording · DDD · Duration: c. 59 Minutes
11 Tracks incl. Digital Booklet

Available for streaming, as lossless download and high-definition download via
Work(s) & Performance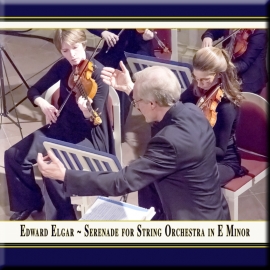 The Serenade for String Orchestra in E Minor, Op. 20, by Edward Elgar (1857-1934)
In music Edward Elgar was a "self made man", who first practiced the small form before gradually approaching the great musical genres. A milestone on this path was the extremely charming Serenade for String Orchestra Op. 20, which was composed in 1892. For this, Elgar probably fell back on a lost composition from 1888. It seems the immediate trigger for the final version of this work was the invitation of a friend to visit the "Bayreuth Festspiele". Elgar studied the creations of Richard Wagner intensively during his autodidactic studies and took up Wagner's opera "Parsifal", which left significant traces in this Serenade - the first composition with which he was fully satisfied. Apparently the publisher Novello, to whom he offered the composition, had a different opinion. Novello did not accept Elgar's offer with the reason, that this kind of music would practically unsaleable. Today this lovely three-part piece is one of the most performed works by the "Englishman", who became famous later with great compositions - not only with his best-known "Pomp & Circumstance March No. 1".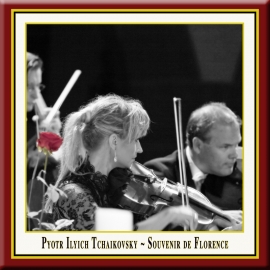 Souvenir de Florence for String Orchestra, Op. 70, by Pyotr Ilyich Tchaikovsky (1840-1893)
Pyotr Ilyich Tchaikovsky (1840-1893) is considered as the most important Russian composer of the 19th century. He composed 'Souvenir de Florence' in 1890, thus during his later period, and dedicated the work to the St. Petersburg Chamber Music Society in response to his appointment as an Honorary Member. Originally scored for string sextet (2 violins, 2 violas and 2 cellos), Tchaikovsky arranged the work later also for string orchestra. The title 'Memory of Florence' probably originates from the fact that the composer started working on it while visiting Florence in Italy.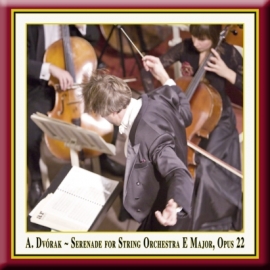 The Serenade for Strings in E Major, Op. 22 / B. 52, by Antonín Dvořák (1841-1904)
Antonín Dvořák's Serenade for Strings in E major, Op. 22 was composed in just two weeks in May 1875. It remains one of the composer's more popular orchestral works to this day. 1875 was a fruitful year for Dvořák, during which he wrote his Symphony No. 5, String Quintet No. 2, Piano Trio No. 1, the opera Vanda, and the Moravian Duets. These were happy times in his life. His marriage was young, and his first son had been born. For the first time in his life, he was being recognized as a composer and without fear of poverty. He received a generous stipend from a commission in Vienna, which allowed him to compose his Fifth Symphony and several chamber works as well as the Serenade. Dvořák is said to have written the Serenade in just 12 days, from 3-14 May. The piece was premiered in Prague on 10 December 1876 by Adolf Čech and the combined orchestras of the Czech and German theatres. It was published in 1877 in the composer's piano duet arrangement by Emanuel Starý in Prague. The score was printed two years later by Bote and Bock, Berlin. (From Wikipedia, the free encyclopedia)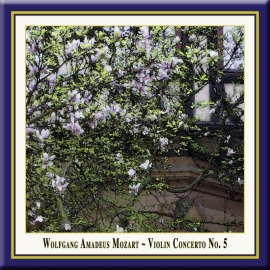 The Violin Concerto No. 5 in A Major, K. 219 "Turkish", by Wolfgang Amadeus Mozart (1756-1791)
The Violin Concerto No. 5 in A major, K. 219, often referred to by the nickname 'The Turkish', was written by Wolfgang Amadeus Mozart in 1775, premiering during the Christmas season that year in Salzburg. It follows the typical fast-slow-fast musical structure. Mozart composed the majority of his concertos for string instruments from 1773 to 1779, but it is unknown for whom, or for what occasion, he wrote them. Similarly, the dating of these works is unclear. Analysis of the handwriting, papers and watermarks has proved that all five violin concertos were re-dated several times. The year of composition of the fifth concerto "1775" was scratched out and replaced by "1780", and later changed again to "1775". Mozart would not use the key of A major for a concerto again until the Piano Concerto No. 12 (K. 414). (From Wikipedia, the free encyclopedia)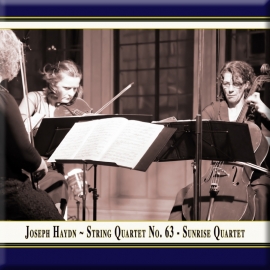 The String Quartet No. 63 in B-Flat Major, Op. 76 No. 4, Hob. III:78 "Sunrise", by Joseph Haydn (1732-1809)
Haydn's string quartet cycle op. 76 came into being due to a common practice of the time, whereby princes, kings, merchants or high-ranking clerics would commission their subordinate court musicians to write pieces of music. Haydn received 100 ducats from Count Joseph Erdödy for the six quartets in 1797. More than two hundred years later they appear like the sum of his art within this genre that he influenced so greatly. The "Sunrise Quartet" in B flat major is the fourth quartet of the work. The name was given retrospectively and is extremely apt: in the first movement, after a few attempts, the first violin leaps from faint sounds into a resonating B major fortissimo that emerges like the rising sun.
The Piano Trio No. 6 in E-Flat Major, Op. 70 No. 2, by Ludwig van Beethoven (1770-1827)
Carl Czerny, composer and student of Beethoven, sayed about the Piano Trio in E-flat Major: "this trio is no less great or original than its successor (Piano Trio in D Major, Op. 70, No. 1), but it is of a very different, less serious character." The trio in e-flat major was composed during the summer of 1808 immediately after the Sixth Symphony, and applies foreseen traits to Romanticism. Beethoven expands his realm of expression here in two somewhat converse directions: both in a seemingly romantically tonal colourfulness, and towards the inclusion of classic style elements by means of a stricter introduction.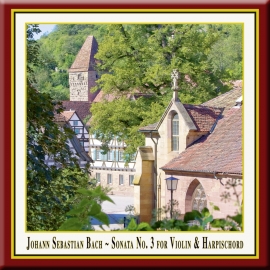 The Sonata No. 3 for Violin and Harpsichord, BWV 1016, by Johann Sebastian Bach (1685-1750)
The "Six Sonatas for Violin and Obbligato Harpsichord", BWV 1014 - 1019, by Johann Sebastian Bach are works in trio sonata form, with the two upper parts in the harpsichord and violin over a bass line supplied by the harpsichord and an optional viola da gamba. Unlike baroque sonatas for solo instrument and continuo, where the realisation of the figured bass was left to the discretion of the performer, the keyboard part in the sonatas was almost entirely specified by Bach. They were probably mostly composed during Bach's final years in Cöthen between 1720 and 1723, before he moved to Leipzig. The extant sources for the collection span the whole of Bach's period in Leipzig, during which time he continued to make changes to the score. (From Wikipedia, the free encyclopedia)
The Concerto Grosso in A Minor, Op. 7 No. 11, for 4 Violins, Viola & Cello Concertanti by Giuseppe Valentini (1681-1753)
Giuseppe Valentini (14 December 1681 - November 1753), nicknamed 'Straccioncino' (Little Ragamuffin), was an Italian violinist, painter, poet, and composer, though he is known chiefly as a composer of inventive instrumental music. He studied under Giovanni Bononcini in Rome between 1692 and 1697. From 1710 to 1727 he served as 'Suonator di Violino, e Componitore di Musica' to Prince Michelangelo Caetani. He also succeeded Corelli as director of the concertino at San Luigi dei Francesi, from 1710 to 1741.Though during his lifetime overshadowed by the likes of Corelli, Vivaldi, and Locatelli, his contribution to Italian baroque music is noteworthy, and many of his works were published throughout Europe. (From Wikipedia, the free encyclopedia)
The Concerto Grosso in A Major by Antonio Montanari (1676-1737)
Antonio Maria Montanari (29 November 1676 in Modena - 2 April 1737 in Rome) was an Italian violinist and composer of the Baroque period. Nothing is known of Antonio Maria Montanari's childhood or his musical education but he was already in Rome as a young man, and between 1692 and 1737 documentation exists (albeit with interruptions) indicating his involvement as a violinist, often in important positions, in the orchestra of Cardinal Ottoboni. From 1712 onwards he appears to have held a permanent post in the Ottoboni household but he also served other families of the Roman nobility, and he is thus found among the musicians who performed in George Frederic Handel's La Resurrezione in 1708 in the Palazzo Ruspoli. On this occasion, and on others documented from 1694 onwards, he is referred to as 'Antonio del sig.r card.le Colonna', which suggests that he had already been in the service of Cardinal Giovanni Paolo Colonna for some time. Between 1695 and 1708 he was in the service of Cardinal Benedetto Pamphili and of the Accademia del Disegno di S Luca. Montanari must have had considerable standing as a violinist, his name always appearing near the top of the lists of players. His reputation was such that Johann Georg Pisendel, who had already studied with Giuseppe Torelli and Antonio Vivaldi, took lessons from him in 1717. In his op. 5 trio sonatas of 1707 Giuseppe Valentini entitled one work La Montanari. He also dedicated a sonnet to Montanari in his collection of Rime, and another sonata by him entitled La Montanari exists in Dresden. The most important single source of biographical information on Antonio Maria Montanari is a commemorative seven-line paragraph squeezed in at the foot of a lightly caricatural pen sketch of the composer by the famous artist Pier Leone Ghezzi:
"S.r Antonio Montanari virtuossisimo sonator di violino, e poi era accompagniata la virtù con un costume da angelo il quale morì alli due di aprile 1737. alle ore 23. e la sua morte è stata compianta da tutta Roma, et io cav. Ghezzi me ne sono lassata la presente memoria il giorno doppo la sua morte, il quale morì in 3 giorni di pontura in età di anni 62 e fu esposto nella chiesa di S. Apostoli dove gli fù cantata messa solenne da tutti i professori di musica tanto cantanti, che sonatori, con 12 faccolotti, ove in detta chiesa riposerà sino al giuditio. Amen. Il med.o nacque alli 29 di novembre del 1676 alle ore 5."
According to contemporary sources, Montanari experimented with enharmonic micro-intervals. His high standing as a violinist suggests that he would have had a teacher-pupil relationship with many talented players in Rome, especially after the death of Arcangelo Corelli, including, perhaps, Pietro Antonio Locatelli. Montanari's works have yet to be studied in depth. His Concerti op.1 are exceptionally well crafted, the alliance of virtuosity with solid contrapuntal writing suggesting the possibility of a lineage of post-Corellian solo concerto such as no other composer attempted. Hitherto almost completely ignored, Montanari's concertos rank amongst the most impressive achievements in the Italian repertoire. (From Wikipedia, the free encyclopedia)
The Concerto Grosso in B-Flat Major, Op. 6 No. 11, by Arcangelo Corelli (1653-1713)
Twelve concerti grossi, Op. 6, is a collection of twelve concerti written by Arcangelo Corelli probably in the 1680s but not prepared for publication until 1714. They are among the finest and first examples of concerti grossi: concertos for a concertino group (here a 1st violin, a 2nd violin and a cello) and a ripieno group of strings with continuo. Their publication – decades after their composition and after Italian composers had moved to favor the ritornello concerto form associated with Vivaldi – caused waves of concerto grosso writing in Germany and England, where in 1739 Georg Frideric Handel honored Corelli directly with his own 'Opus 6' collection of twelve. (From Wikipedia, the free encyclopedia)




View more releases with works by
Series & Edition
P
ublishing Authentic Classical Concerts entails for us capturing and recording outstanding performances and concerts for posterity. The performers, audience, opus and room enter into an intimate dialogue that in its form and expression, its atmosphere, is unique and unrepeatable. It is our aim, the philosophy of our house, to enable the listener to acutely experience every facet of this symbiosis, the intensity of the performance, so we record the concerts in direct 2-Track Stereo digital HD. The results are unparalleled interpretations of musical and literary works, simply - audiophile snapshots of permanent value. Flourishing culture, enthralling the audience and last but not least also you the listener, are the values we endeavor to document in our editions and series.
The concerts at the UNESCO World Heritage Maulbronn Monastery supply the ideal conditions for our aspirations. It is, above all, the atmosphere of the romantic, candle-lit arches, the magic of the monastery in its unadulterated sublime presence and tranquillity that impresses itself upon the performers and audience of these concerts. Renowned soloists and ensembles from the international arena repeatedly welcome the opportunity to appear here - enjoying the unparalleled acoustic and architectural beauty of this World Heritage Site, providing exquisite performances of secular and sacred music, documented by us in our Maulbronn Monastery Edition.
Music that is new, pieces worth listening to and well worth conserving, little treasures from the traditional and the avantgarde - music that is unimaginable anywhere else but in the hotbed of Europe - we capture these in our Castle Concerts Series of recordings in their original settings in cooperation with Volker Northoff.
Andreas Otto Grimminger & Josef-Stefan Kindler, K&K Verlagsanstalt
Works, Movements & Tracklist
Edward Elgar (1857-1934):
Serenade in E Minor, Op. 20
1. II. Larghetto [5:49]
Performed by the Mainz Chamber Orchestra,
conducted by Gernot Schulz
Pyotr Ilyich Tchaikovsky (1840-1893):
Souvenir de Florence, Op. 70
(Version for String Orchestra)
2. II. Adagio cantabile [9:42]
Performed by the Southwest German Chamber Orchestra,
conducted by Sebastian Tewinkel
Antonín Dvořák (1841-1904):
Serenade for Strings, Op. 22, B. 52
3. I. Moderato [3:48]
4. II. Tempo di valse [5:59]
Performed by the Beethoven Academy Orchestra,
conducted by Pawel Przytocki
Wolfgang Amadeus Mozart (1756-1791):
Violin Concerto No. 5 in A Major
K. 219 "Turkish"
5. II. Adagio [9:33]
Performed by Linus Roth (Violin)
and the Württemberg Chamber Orchestra,
conducted by Jörg Faerber
Franz Joseph Haydn (1732-1809):
String Quartet No. 63 in B-Flat Major
Op. 76 No. 4, Hob. III:78 "Sunrise"
6. II. Adagio [5:43]
Performed by the Rubin Quartet
Ludwig van Beethoven (1770-1827):
Piano Trio No. 6 in E-Flat Major, Op. 70 No. 2
7. III. Allegretto ma non troppo [7:36]
Performed by the Trio Fontenay
Johann Sebastian Bach (1685-1750):
Sonata No. 3 for Violin and Harpsichord, BWV 1016
8. I. Adagio [4:23]
Performed by the Wolfgang Bauer Consort,
feat. Sebastian Hamann (Violin) & Thomas Strauss (Harpsichord)
Giuseppe Valentini (1681-1753):
Concerto Grosso in A Minor, Op. 7 No. 11
9. VI. Adagio [2:54]
Performed by the European Union Baroque Orchestra,
conducted by Riccardo Minasi
Soloists: Jacek Kurzydło, Anna Curzon, Dominika Fehér, Claudia Norz, Ricardo Cuende Isuskiza & Petr Hamouz
Antonio Montanari (1676-1737):
Concerto Grosso in A Major
10. I. Adagio [1:18]
Performed by the European Union Baroque Orchestra,
conducted by Riccardo Minasi
Arcangelo Corelli (1653-1713):
Concerto Grosso in B-Flat Major, Op. 6 No. 11
11. I. Preludio: Andante Largo [2:45]
Performed by the European Union Baroque Orchestra,
conducted by Riccardo Minasi
Live recordings from Maulbronn Monastery and Bad Homburg Castle
Sound & Recording Engineer: Andreas Otto Grimminger
Production & Mastering: Andreas Otto Grimminger & Josef-Stefan Kindler
Photography, Artwork & Coverdesign: Josef-Stefan Kindler

Comments on YouTube:
"Heartbreaking" (nurwer)
"Wonderful" (mahergad1)
"MMmmmmmmmmmm... so so peaceful! I love it!" (Stephanie)
"Briliant performance"(my last escape)
"Beautiful!" (Josef Meier)
"Beautiful... both audibly and visibly." (Joseph Anthony)