Wolfgang Manz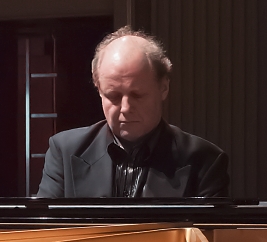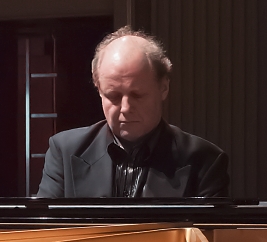 Prof. Wolfgang Manz ~ Pianist
Wolfgang Manz, born in 1960, is prizewinner of many prestigious international piano competitions such as Leeds (1981) and Brussels (Concours Reine Elisabeth, 1983), the first time that a German pianist won 2nd prizes in these competitions, furthermore winner of the Mendelssohn-Bartholdy-Prize Berlin 1980, 2nd prize at the National German Music Competition in Bonn 1982 and a jury discretionary award in the 1989 Van Cliburn International Pianoforte Competition in Texas/USA. Manz has been influenced by two very different traditions, by the Czech pianist Drahomir Toman, a representative of the Eastern European school originating from Theodor Leschetizky, whereas he adapted elements of the German tradition at the renowned University of Music at Hanover in the class of Prof. Karlheinz Kämmerling.
Since his success at famous competitions Wolfgang Manz has been much in demand as soloist with orchestras, in solo recitals and chamber music. His repertoire includes more than 50 concertos with orchestra and an extensive solo and chamber music programme ranging from Bach to Contemporary Music. In the 80-ies he performed with well-known orchestras and conductors, particularly with British orchestras as the English Chamber, Royal Philharmonic and BBC Symphony Orchestra (appearance at the London "Prom" concerts 1984 with Brahms 1st piano concerto).
Manz was soloist with the Radio Symphony Orchestra Berlin, the "Radiophilharmonie" Hanover, the "Orchestra of the Beethovenhalle" Bonn, the Düsseldorf Symphony and the Munich Chamber Orchestra, over the last 5 years with German orchestras in Nuremberg, Rostock, Göttingen, Halle, Baden-Baden and Bielefeld. In 2005 he was soloist at the renowned "Festival d´Echternach" in Luxemburg with Mendelssohn`s first piano concerto.
Recital tours took him to cultural centres such as Cologne (Philharmonie), Berlin (Philharmonie), Hamburg (Laeiz-Hall), Munich (Herkulessaal), Salzburg (Festspielhaus), Frankfurt (Alte Oper), Brussels (Palais des Beaux-Arts), London (South Bank), Tokyo (Suntory Hall), Moscow (Conservatory), Santiago de Chile (Teatro municipal) and recently to Amsterdam (december 2011, Concertgebouw).
A couple of CD productions with Wolfgang Manz are available on the market : ARTE NOVA (Brahms piano concertos), CHANDOS Records (Dohnanyi piano quintet with the Gabrieli string quartet) and TELOS Records (Brahms late piano pieces and concertos for piano and orchestra, solo recital with Schumann, Liszt, Debussy), THOROFON (pieces by Schubert, Liszt. Debussy, Ravel, Rachmaninov s piano duet for 4 hands and 2 pianos) and TELOS (Beethoven-Liszt 9th symphony and Russian Music for 2 pianos). In 2011 Manz recorded a Franz Liszt recital programme for TELOS records.
Together with his compatriote Rolf Plagge - also prizewinner at the Concours Reine Elisabeth in Brussels - Wolfgang Manz founded a piano duet (Duo Reine Elisabeth) in 1988 which has performed frequently in Europe as well as in South America (Chile) and Central America (Mexico).
Since 1986 Wolfgang Manz is regularly involved in ballet productions at the opera houses in Zurich, Leipzig , Munich, Berlin, Dresden and Karlsruhe, where he takes an important function as piano soloist in choreographies by Uwe Scholz (Rachmaninow 3rd piano concerto , Mozart "Jeunehomme" concerto KV 271, and Bartok 1st piano concerto , Ballet Leipzig), John Neumeier (Chopin in "Kameliendame" with the Bavarian State Ballet Munich) and Davide Bombana (Strawinsky "Sacre du printemps" in a version for 2 pianos at the "Badisches Staatstheater Karlsruhe") and Jörg Mannes (Ravel concerto for the left hand - with the Bavarian State Ballet Munich).
Apart from his career as soloist Wolfgang Manz has gained much recognition as pedagogue. He has given masterclasses in Belgium, Austria and South Corea. From 1994-1998 Manz held a teaching position at the University of Music at Karlsruhe. In 2000 Manz was guest professor at the Ferris – University in Yokohama / Japan. In the same year he was appointed ordinary professor for piano at the University of Music Nürnberg-Augsburg (from 2008 Stately University of Music Nürnberg). In november 2011 Manz was appointed "guest visiting professor" at the Leeds College of Music in Britain.
Wolfgang Manz is recently sought after as jury member in national and international piano competitions, for example at the German National Music Competition in Bonn (2001), at the Walter Gieseking piano competition in Saarbrücken (2007), at the International Competition for Young Pianists Ettlingen (2006 und 2010), at the Rachmaninow competitions in Moscow and Darmstadt (2008), and at the 2009 and 2011 Georges Enescu - Competition in Bucarest.
Many of his students have already won major prizes at international piano competitions such as Leeds, Hongkong (Sunghoon Kim) , Rhodes International Competition (Soyeon Kim) , "Tomassoni"/ Cologne (Jin Sang Lee) , Luis Sigall / Chile (Jung Eun Kim) , Wiesbaden, Porto (Konstantin Semilakovs) , Vienna Beethoven Competition and Cleveland 2011 (Alexander Schimpf) .
www.wolfgangmanz.de