BEETHOVEN: String Quartet No. 8 in E Minor, Op. 59, No. 2 "Rasumovsky Quartet No. 2"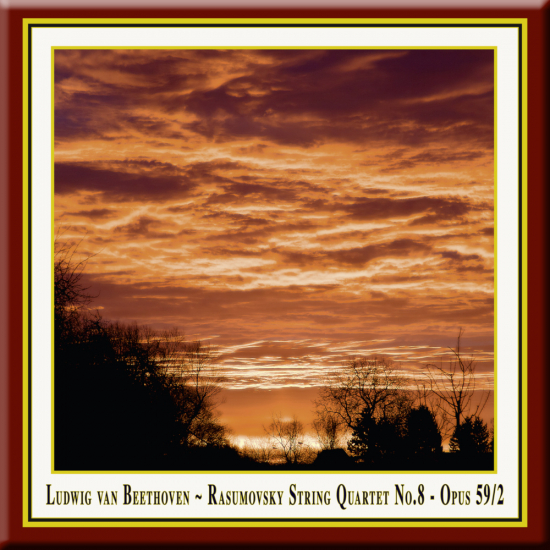 Ludwig van Beethoven (1770-1827):
String Quartet No. 8 in E Minor
Op. 59, No. 2 · "Rasumovsky Quartet No. 2"
Performed by the Orpheus String Quartet:
Charles-André Linale (1st Violin) · Emilian Piedicuta (2nd Violin)
Emile Cantor (Viola) · Laurentiu Sbarcea (Cello)
A live recording from the German
UNESCO World Heitage Site Maulbronn Monastery
DDD · Duration: 35 Min. 41 Sec. · 4 Tracks


Available for streaming, as lossless download and high-definition download via
Work(s) & Performance
T

his String Quartet was the second of three of his "Razumovsky" cycle of string quartets, and is a product of his "middle" period. He published it in 1808. It is in four movements: I. Allegro - II. Molto adagio (Si tratta questo pezzo con molto di sentimento) - III. Allegretto (with the second section marked Maggiore - Theme russe) - IV. Finale. Presto. According to Carl Czerny, the second movement of the quartet occurred to Beethoven as he contemplated the starry sky and thought of the music of the spheres (Thayer, Life of Beethoven); it has a hymnlike quality reminiscent of a much later devotion, the "Heiliger Dankgesang" hymn to the Divine in the Quartet Op. 132. The scherzo movement of the quartet, the third movement (allegretto), uses a Russian theme also used by Modest Mussorgsky in Boris Godunov, by Anton Arensky in his String Quartet No. 2 in A Minor, and by Sergei Rachmaninoff in his 6 Morceaux for Piano Duet, Op. 11. The original song, "Glory to the Sun", was recorded by Nikolay Lvov and Jan Prac; sheet music was published in 1790 (second edition 1806), verses in the 1770s. However, Beethoven used it in an ungentle way. According to Kerman, "It sounds as though Count Razumovsky had been tactless enough to hand Beethoven the tune, and Beethoven is pile-driving it into the ground by way of revenge." In an extremely unusual example of melodic setting prior to the 20th century, portions of the tune with strong tonic harmonic leanings are harmonized with the dominant, and vice versa; the harmonic clash is harsh, and many listeners have found this portion of the quartet to be quite amusing, especially as contrasted with the prosaic, almost "exercise-book" counterpoint which precedes it (another example of Beethoven parodying a student counterpoint exercise can be found in the scherzo of the Quartet No. 10, opus 74). (From Wikipedia, the free encyclopedia)
View more releases with works by
Performer(s)
S
ince their debut at the Wigmore Hall, London, in 1994 the Dusseldorf-based Orpheus Quartet has been a regular guest to this wonderful chamber music hall, renowned for its uncompromizing standards of performance. The Quartet's concert of 28 May 2000 inspired The Strad magazine to another admiring retrospective, rounding off in the same breath: "One had to marvel at the Orpheus Quartet's sense of timbre, at its unified view of the music and its ability to create both textural variety and impetus."
The Orpheus Quartet spends a lot of time commissioning and playing contemporary music and looks very seriously at all possibilities to broaden the standard repertoire with interesting and forgotten compositions. This has given them an exceptionally wide scope. Not surprisingly. their recordings have been greeted with international acclaim. In January 1993 the Quartet was awarded the Grand Prix du Disque de l'Academie Charles Gros for their interpretation of Malipiero's eight String Quartets, a world premiere recording. The disc of Schubert's Quintet in C major with Pieter Wispelwey, cello, was awarded a Diapason d'Or (1994).
The Orpheus Quartet, a truly international ensemble (French - Dutch - Rumanian), was founded in 1987 by Charles-André Linale (violin), Emilian Piedicuta (violin), Emile Cantor (viola) and Laurentiu Sbarcea (violoncello). Wherever they concertize, audiences and press alike are impressed by the intensity and musical expression of their interpretations. Furthermore, they won in fact every competition they participated in: the Valentino Bucchi International Chamber Music Competition in Rome (1988). the Karl Klingler Competition in Munich (1990) and the first International Chamber Music Competition of Japan, held in Osaka (1993). The result of this were many invitations from all over Europe, The United States and Japan.
After their much praised US debut in 1999, successive tours in april 2000 and november 2001 have been accomplished to great public acclaim. In october 2002 an US tour took place. In the 2000-2001 season the Orpheus Quartet has performed as much as six times in London, four alone in Wigmorehall where they a.o. gave a very successful Schubert-weekend. They made 2 tours with different pianists, one with Homero Francesch (Italy and Germany) and two with their long time friend Menahem Pressler. (Germany, Netherlands, UK, USA and Canada). The Orpheus Quartet gave the opening and closure concertin the Ticino Musica festival (Ascona-Locarno) in summer 2001 and were immediately reinvited for the summer 2002.
Ever since their foundation the Orpheus Quartet has given much of their time to teach and apart from their regular classes in Mainz, Essen, Wuppertal, Aachen and Utrecht, the members of the quartet always give master classes during the Summer in countries such as Spain, Belgium, The Netherlands, Denmark, Sweden and Switzerland.
Further informations about each member of the ensemble and current concert-dates can be found at the homepage of the Orpheus Quartet.
The Ensemble:
Charles-André Linale - 1st Violin · Emilian Piedicuta - 2nd Violin
Emile Cantor - Viola · Laurentiu Sbarcea - Cello
Series & Edition
P
ublishing Authentic Classical Concerts entails for us capturing and recording outstanding performances and concerts for posterity. The performers, audience, opus and room enter into an intimate dialogue that in its form and expression, its atmosphere, is unique and unrepeatable. It is our aim, the philosophy of our house, to enable the listener to acutely experience every facet of this symbiosis, the intensity of the performance, so we record the concerts in direct 2-Track Stereo digital HD. The results are unparalleled interpretations of musical and literary works, simply - audiophile snapshots of permanent value. Flourishing culture, enthralling the audience and last but not least also you the listener, are the values we endeavor to document in our editions and series.
The concerts at the UNESCO World Heritage Maulbronn Monastery supply the ideal conditions for our aspirations. It is, above all, the atmosphere of the romantic, candle-lit arches, the magic of the monastery in its unadulterated sublime presence and tranquillity that impresses itself upon the performers and audience of these concerts. Renowned soloists and ensembles from the international arena repeatedly welcome the opportunity to appear here - enjoying the unparalleled acoustic and architectural beauty of this World Heritage Site, providing exquisite performances of secular and sacred music, documented by us in our Maulbronn Monastery Edition.
Andreas Otto Grimminger & Josef-Stefan Kindler, K&K Verlagsanstalt
Works, Movements & Tracklist
Ludwig van Beethoven (1770-1827):
String Quartet No. 8 in E Minor, Op. 59, No. 2
"Rasumovsky Quartet No. 2"
2. I. Allegro · 3. II. Molto Adagio
4. III. Allegretto · 5. IV. Finale: Presto
Sound & Recording Engineer: Andreas Otto Grimminger
Production & Mastering: Andreas Otto Grimminger & Josef-Stefan Kindler
Photography: Josef-Stefan Kindler
Artwork & Coverdesign: Josef-Stefan Kindler