Franck: Prélude, Fugue et Variation, Op. 18 · Pan Flute & Organ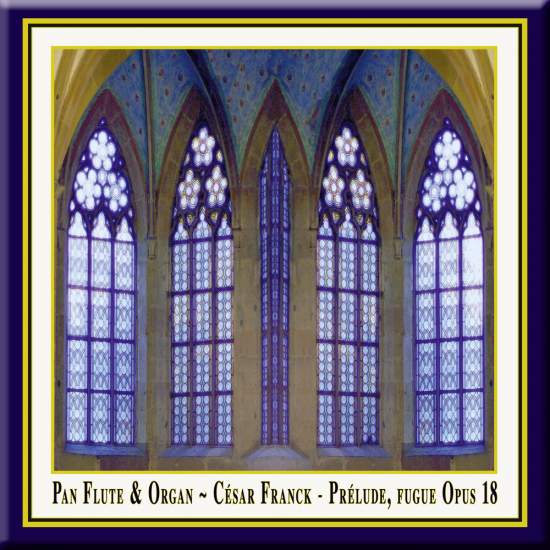 César Franck (1822-1890):
Prélude, Fugue et Variation, Op. 18
Pan Flute & Organ
Performed by
Ulrich Herkenhoff (Pan Flute) & Matthias Keller (Organ)

A live recording from the church of the German
UNESCO World Heritage Site Maulbronn Monastery

Digital Music Album · DDD · Duration: 9 Min. 46 Sec.


Available for streaming, as lossless download and high-definition download via
Performer(s)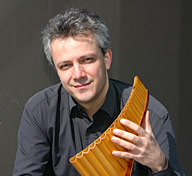 U
lrich Herkenhoff was born in 1966 in Osnabrueck, Germany. He had his first piano lesson at the age of six and, at 14, he first saw the pan flute in a concert given by the Rumanian, Gheorghe Zamfir. This inspired him to intensively study the instrument allowing him to eventually achieve the reputation as "the best non-Rumanian pan flute virtuoso". After studying the flute at the Richard Strauss Conservatory in Munich and subsequently the pan flute in an advanced class with Prof. Jochen Gaertner, Ulrich Herkenhoff rapidly become an internationally renowned soloist. He received special assistance from Georghe Zamfir's discoverer, the Swiss music ethnologist and publisher, Marcel Cellier, to study and promote Rumanian folklore. In 1990, he recorded his first CD of Rumanian improvisations with Cellier on the organ. With his interpretations of "classical" works, Ulrich Herkenhoff has inspired many contemporary composers to pen original compositions for the the pan flute.
T
he Art of Pan is his ambitious project to see the pan flute established as a serious concert instrument. In 1992, he was honored with the Gastieg culture circle's recognition and, in 1996, with the Bavarian state's prize for young artists. In 2000, the German Phonographic Academy awarded him a much coveted Echo, the classic prize as soloist of the year. Herkenhoff has also become in demand for film music. Among the many films he has been involved with is the Oscar winning Lord of the Rings. His latest contribution was in 2004. in Budapest, performing Ennio Morricone's music for the film version of Imre Kertsz's book Fateless. Herkenhoff is also dedicated to the academic advancement of the pan flute, having published many works for the pan flute. He has made all the instruments he plays himself.
U
lrich Herkenhoff has had a long term musical relationship with the organist and pianist, Matthias Keller. Born in 1956, Keller studied piano, church organ and music education at Munich's Music Conservatory. In addition to his artistic activities, he is also author and producer for various Radio networks (Bavaria, Hessen, North Germany etc.). As a music journalist he has been published in the Süddeutschen Zeitung, Fono Forum, Klassik Heute, Opernwelt, Münchner Abendzeitung and the Berner Zeitung. Keller teaches the History and Aesthetics of Film Music in the Munich Conservatory. Regular seminars and workshops for German television, the Goethe Institute and others have led him to such exotic places as Ghana. His personal contacts to such leading film composers as Angelo Badalamenti, John Barry, Bruce Broughton, Patrick Doyle, Elliot Goldenthal, James Newton, Howard Shore, David Raksin, Ennio Morricone, Laurence Rosenthal, Enjott Schneider, Hans Zimmer, Don Davis, John Debney, Mark Mancina, among others, has enabled him to become the best informed journalist in this area. He also has a broad knowledge in vocal, crossover and improvisational music as well as piano and organ literature.
Matthias Keller is editor of the contemporary composer lexicon and jury member for the German record critics' film music prize. As of April 2000, he is a producer for Bavarian radio's classic program. Just to round off the spectrum of his musical activities, he is also an arranger and composer.
Series & Edition
P
ublishing Authentic Classical Concerts entails for us capturing and recording outstanding performances and concerts for posterity. The performers, audience, opus and room enter into an intimate dialogue that in its form and expression, its atmosphere, is unique and unrepeatable. It is our aim, the philosophy of our house, to enable the listener to acutely experience every facet of this symbiosis, the intensity of the performance, so we record the concerts in direct 2-Track Stereo digital HD. The results are unparalleled interpretations of musical and literary works, simply - audiophile snapshots of permanent value. Flourishing culture, enthralling the audience and last but not least also you the listener, are the values we endeavor to document in our editions and series.
The concerts at the UNESCO World Heritage Maulbronn Monastery supply the ideal conditions for our aspirations. It is, above all, the atmosphere of the romantic, candle-lit arches, the magic of the monastery in its unadulterated sublime presence and tranquillity that impresses itself upon the performers and audience of these concerts. Renowned soloists and ensembles from the international arena repeatedly welcome the opportunity to appear here - enjoying the unparalleled acoustic and architectural beauty of this World Heritage Site, providing exquisite performances of secular and sacred music, documented by us in our Maulbronn Monastery Edition.
Andreas Otto Grimminger & Josef-Stefan Kindler, K&K Verlagsanstalt
Works, Movements & Tracklist
César Franck (1822-1890):
Prélude, Fugue et Variation, Op. 18
Transcription for Pan Flute and Organ arranged by M. Keller
1. Prélude · 2. Fugue · 3. Variation
Sound & Recording Engineer: Andreas Otto Grimminger
Production & Mastering: Andreas Otto Grimminger & Josef-Stefan Kindler
Photography, Artwork & Design: Josef-Stefan Kindler