Santa Claus Is Coming To Town
New Orleans Jazz Band of Cologne
Santa Claus Is Coming To Town
A Swinging Christmas Concert,
arranged and performed by the New Orleans Jazz Band of Cologne
Santa Claus Is Coming To Town ~ Have Yourself A Merry Little Christmas
Here Comes Santa Claus ~ God Rest Ye Merry, Gentlemen
Christmas Time In New Orleans ~ Christmas Song
Frosty The Snow Man ~ Winter Wonderland
You're All I Want For Christmas ~ Mary's Boy Child
At The Christmas Ball ~ Zat You, Santa Claus ~ Blue Christmas
A live recording from Bad Homburg Castle in Germany
HD Recording · DDD · Duration: c. 66 Minutes

Streaming, Lossless- & High-Definition-Downloads via
Concert Location
Castle Concerts · Centuries of Romance
C
astles and palaces have always inspired our imagination. They were and still are places of flourishing music culture, because they stimulate noble thoughts and deep feelings. Their tales and legends open our hearts and minds for romance in any sense. Standing in a castle one realises that romantisism embraces much more than the period so named. The works from different centuries and from multiple musical genres presented in our Castle Concerts series testify to this with the incomparable spirit of their interpretation. In this production we show you how to celebrate a romantic Christmas with lively swing music.
Volker Northoff
Performer(s)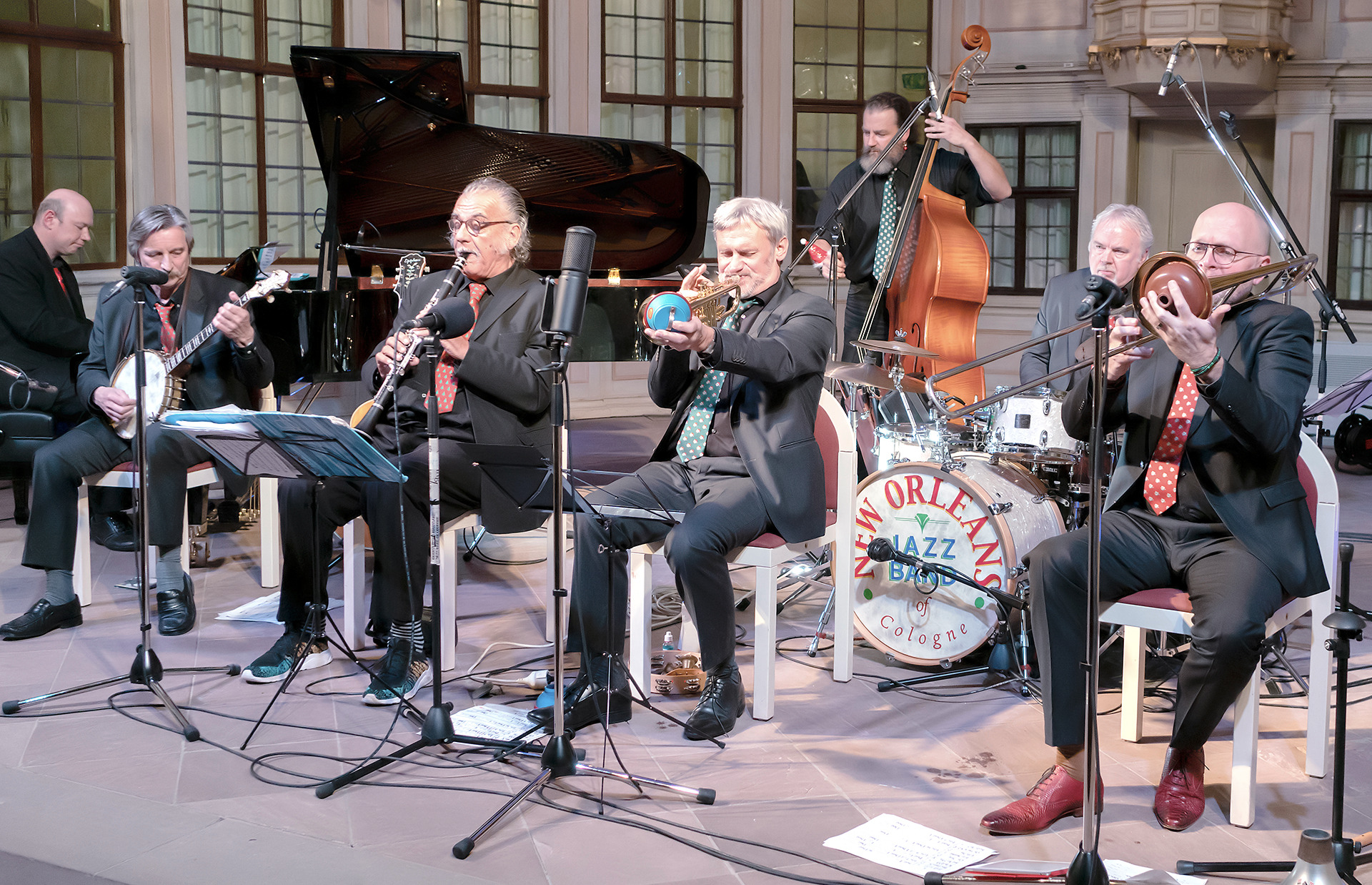 Bruno van Acoleyen · Trumpet & Vocals ~ Bart Brouwer · Trombone & Vocals
John Defferary · Clarinet & Vocals ~ Dominik Dötsch · Piano (Guest)
Hans-Martin "Büli" Schöning · Banjo & Guitar ~ Markus "Benny" Daniels · Bass
Reinhard Küpper · Drums & Leading
Series & Edition
P
ublishing Authentic Classical Concerts entails for us capturing and recording outstanding performances and concerts for posterity. The performers, audience, opus and room enter into an intimate dialogue that in its form and expression, its atmosphere, is unique and unrepeatable. It is our aim, the philosophy of our house, to enable the listener to acutely experience every facet of this symbiosis, the intensity of the performance, so we record the concerts in direct 2-Track Stereo digital HD. The results are unparalleled interpretations of musical and literary works, simply - audiophile snapshots of permanent value. Flourishing culture, enthralling the audience and last but not least also you the listener, are the values we endeavor to document in our editions and series.
Music that is new, pieces worth listening to and well worth conserving, little treasures from the traditional and the avantgarde - music that is unimaginable anywhere else but in the hotbed of Europe - we capture these in our Castle Concerts Series of recordings in their original settings in cooperation with Volker Northoff.
Andreas Otto Grimminger & Josef-Stefan Kindler, K&K Verlagsanstalt
Works, Movements & Tracklist
1. Santa Claus Is Coming To Town [7:01]
Written by John Frederick Coots
2. Have Yourself A Merry Little Christmas [4:16]
Written by Hugh Martin & Ralph Blane
3. Here Comes Santa Claus [4:48]
Written by Gene Autry & Oakley Haldeman
4. God Rest Ye Merry, Gentlemen [4:23]
Traditional
5. Christmas Time In New Orleans [7:34]
Written by Dick Sherman & Joe Van Winkle
Vocals: Bruno van Acoleyen
6. Christmas Song [5:21]
Written by Bob Wells & Mel Tormé
7. Frosty The Snow Man [4:50]
Written by Walter Rollins & Steve Nelson
8. Winter Wonderland [5:58]
Written by Felix Bernard · Lyrics by Richard Bernhard Smith
Vocals: Bart Brouwer
9. You're All I Want for Christmas [4:29]
Written by Seger Ellis & Glen T. Moore
Vocals: John Defferary
10. Mary's Boy Child [3:22]
Written by Jester Joseph Hairston
11. At The Christmas Ball [4:44]
Written by Butch Thompson & F. W. Longshaw
Vocals: Bruno van Acoleyen
12. Zat You, Santa Claus [4:32]
Written by Jack Fox
Vocals: Bruno van Acoleyen
13. Blue Christmas [5:26]
Written by Billy Hayes & Jay W. Johnson
Vocals: John Defferary
A live recording from Bad Homburg Castle in Germany,
documented, produced & released
by Andreas Otto Grimminger & Josef-Stefan Kindler
in cooperation with Volker Northoff
Concert Date: December 9, 2018
Sound Engineer: Andreas Otto Grimminger
Production & Mastering: Andreas Otto Grimminger & Josef-Stefan Kindler
Photography, Artwork & Coverdesign: Josef-Stefan Kindler

Recommended by the Downbeat Magazine in the 'Holiday Gift Guide 2019'
The German, Belgian and Dutch members of the New Orleans Jazz Band of Cologne find their passion in New Orleans traditional jazz. "Santa Claus Is Coming To Town" (K&K Verlagsanstalt 134; 66:52) maintains the level of energy necessary to keep nostalgia away on this live album. A round-robin of decent solos is the order of the day.