Glass & Stones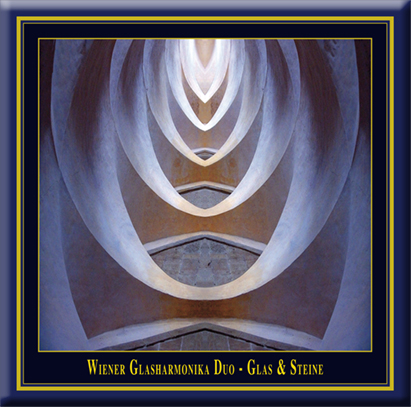 Vienna Glass Armonica Duo
Glass & Stones
A concert with the Vienna Glass Armonica Duo
(Glass Armonica & Verrophone),
Christa Schönfeldinger (Glass Armonica)
& Gerald Schönfeldinger (Verrophone)
plays works by Antonio Vivaldi (1678-1741),
Wolfgang Amadeus Mozart (1756-1791),
Gottfried Keller (1819-1890),
Carl Röllig (1754-1804),
Edward Grieg (1843-1907),
Arvo Pärt, Ennio Morricone
and Gerald Schönfeldinger

A concert recording from the church of the German
UNESCO World Heritage Site Maulbronn Monastery

HD Recording · DDD · ca. 55 minutes

Streaming, Lossless- & High-Definition-Downloads via
More Details
T
hey are built of natural stone, these noble halls of this world heritage site. A fascinating thought when you're standing under arches that are hundreds of years old. The stones seem to whisper - because, in the quiet of their existence, you seem to feel how they are imbued with all those voices and instruments that filled these walls with their sounds - violins, the sound of trumpets, the organ and singing' wood and metal. But in the end, isn't it the material of the body that makes the sound of an instrument?
It was the sound of the glass armonica that inspired Mozart to write a minuet and, after hearing how his composition sounded on the glass harmonica, Arvo Pärt gave the Ensemble his one-time permission to perform "Pari Intervallo" with the "glass instrument". Even Gottfried Keller described the sound and effect of the instrument as
"...then it began to play in the most ghostly tones I have ever heard..."
Now, the glass armonica is made of glass - plain old glass - melted sand, nothing more. But this is also the same basic material as these world heritage walls are made of - natural sandstone...
And during this concert by these Viennese artists, it was as if I could feel the walls vibrating and I thought I heard the very stones singing.

Josef-Stefan Kindler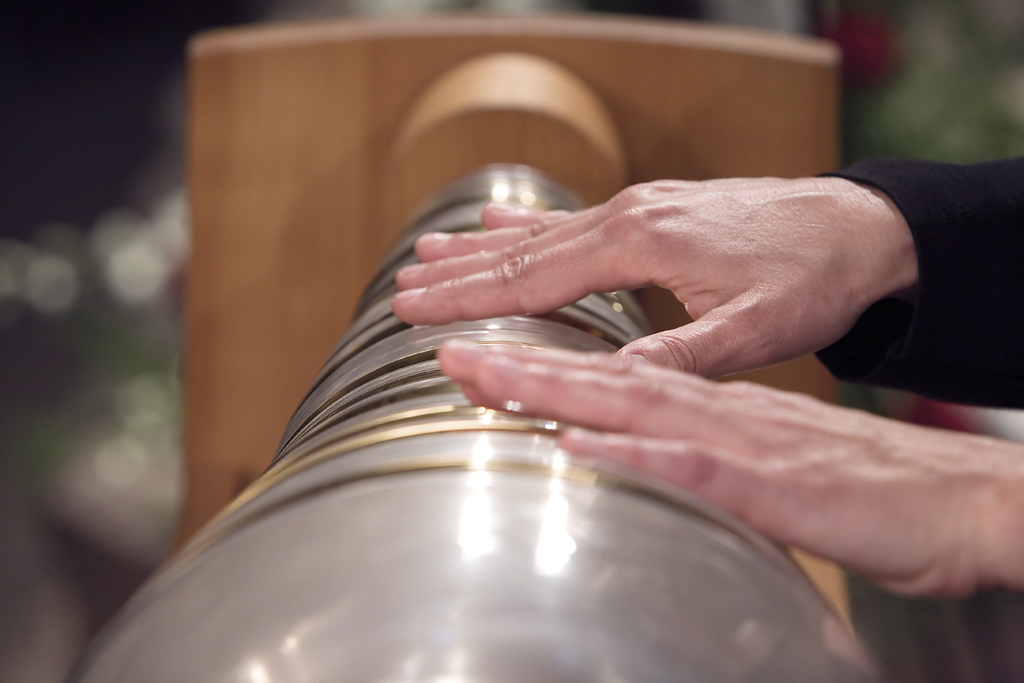 A
fter 150 years of being forgotten, the glass armonica is now being built again, exactly like with the original instrument. It was invented by Benjamin Franklin in 1761. The individual glass bowls (B flat - F) are attached to a rotating axis. For orientation purposes, some of the bowls are marked with gold stripes. These correspond to the black keys on a piano. The performer gently touches the rims of the rotating bowls with a damp finger, causing them to vibrate.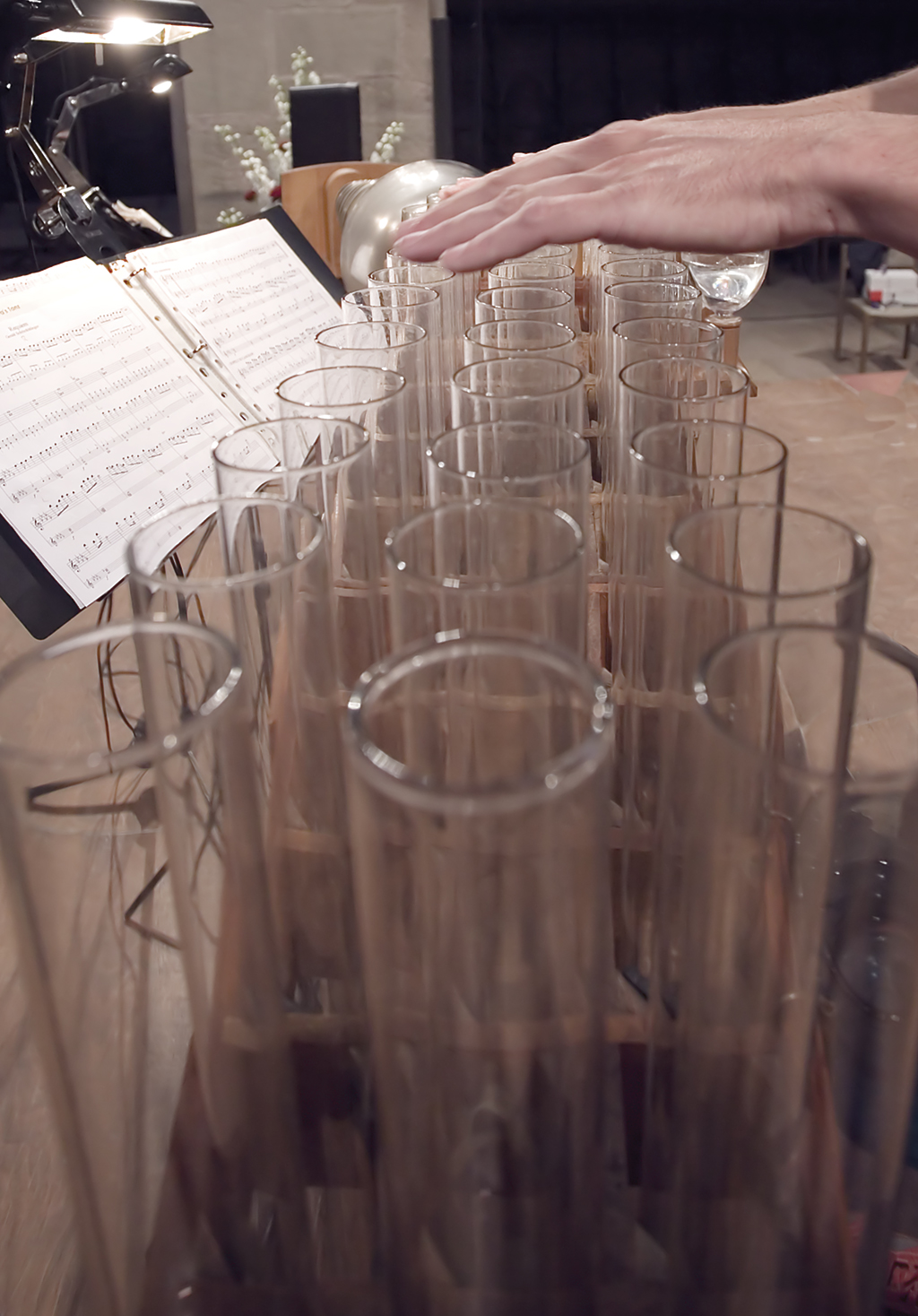 T
he verrophone (verre, French = glass) was invented by Sascha Reckert in 1983 and was based on the principle of musical glasses. Glass tubes are arranged according to size (usually on a chromatic scale) and attached at the vibration points. The length of the tube determines the pitch. Touching a damp finger to the rim makes the glass vibrate.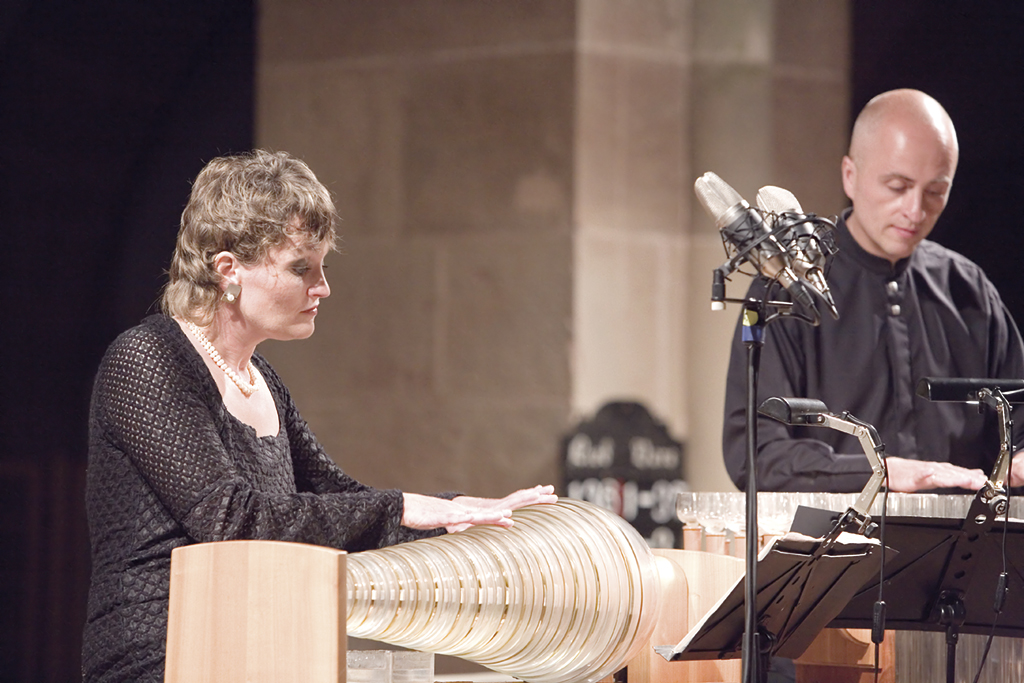 C
hrista and Gerald Schönfeldinger, the Vienna Glass Armonica Duo, studied music in Vienna and are trained violinists. They first discovered the glass armonica through the Strauss opera "Die Frau ohne Schatten" (The Woman Who Had No Shadow). Fascinated by the sounds made by the glass, they formed the Vienna Glass Armonica Duo at the beginning of the 1990s and are now among the leading players of glass armonica and verrophone worldwide. Free of the usual concert circuit, they offer their enthusiastic audiences a lyrical mix of poetic chamber music and a meditative world of sound that is amazing in its intensity. Different "crossover" projects involving language and literature have brought both of them into contact with actors and speech artists like Senta Berger, Erika Pluhar, Peter Uray, Claus Boysen and Christian Ludwig Attersee.
These two artists, like the Austrian physician and mesmerist Franz Anton Mesmer, also deal with the mental and physical effect of the sounds made by glass. Their audio seminars offer participants the chance to use sound vibrations to achieve inner tranquillity and regenerate their hearing from the stress caused by the daily deluge of noise.
More information at: www.glasharmonika.at
Works and Tracklist:

Gottfried Keller (1819-1890, Lyrics) - Carl Röllig (1754-1804, Music)
1. In einer Mondnacht in Luzern - Siciliano für die Glasharmonika
Voice: Peter Uray

Wolfgang Amadeus Mozart (1756-1791)
2. Menuett aus dem Divertiment Nr. 9, KV 240*

Gerald Schönfeldinger (born 1960)
3. Requiem

Antonio Vivaldi (1678-1741)
4. Der Winter, Largo*

Wolfgang Amadeus Mozart
5. Ein deutscher Tanz, KV 567*

Wolfgang Amadeus Mozart
6. Adagio für Glasharmonika in C-Dur, KV 617a

Edward Grieg (1843-1907)
7. Smartrold ~ Der Kobold*

Gerald Schönfeldinger
8. Das Tor zur Seele

Arvo Pärt (born 1935)
9. Pari Intervallo

Ennio Morricone (born 1928)
10. Il Gatto*

Gerald Schönfeldinger
11. Wesenlos ~ eine Klangverklärung
Voice: Oscar Werner

* arranged for Verrophone and Glass Armonica by Christa & Gerald Schönfeldinger

One of the most satisfying glass harmonica discs ever
The Vienna Glasharmonika Duo, consisting of husband and wife Gerald and Christa Schönfeldinger, is one of the longest established groups wholly devoted to performing music written for glass and their K&K-Verlagsanstalt release Glas & Steine (Glass & Stone) is of an in-concert recording from the summer of 2006. Christa Schönfeldinger performs on a reconstructed instrument that is almost exactly like the glass armonica that Benjamin Franklin invented in 1761 rather than the crystal glasses in a suitcase instrument more commonly used since Bruno Hoffman revived glass music in the 1950s. Gerald Schönfeldinger plays a modern instrument called a Verrophon that consists of a set of test tube-like glasses and contributes three original compositions to the program written in an idiom very well suited to this exotic combination of instruments. The recording, touted as a "Direct 2-Track Stereo" release, is excellent, made at Maulbronn Monastery in Austria, which has superb acoustics.
Although the program includes the expected Mozart K. 617a and arrangements of some other pieces by him, it does expand upon our notions of glass harmonica music. Especially notable is the inclusion of Arvo Pärt's Intervallo, written in open score and usually played on the organ but perfectly well suited to the glass harmonica. Ennio Morricone's Il Gatto is included as a way to vary the sound of the program, which includes some glasses as struck with soft mallets in addition to the usual bowing with the fingertip. However, the most striking piece is Vienna Glasharmonika Duo's transcription of Edvard Grieg's lyric piece Der Kobold, which succeeds well in stretching the boundaries of these instruments, demonstrating that fast passagework is possible and the glass harmonica need not be limited to long, sustained notes, even though that's the kind of musical texture that suits it best....
...Glas & Steine is one of the most satisfying glass harmonica discs ever. The resonance of Maulbronn Monastery helps take the edge off the sometimes-piercing top notes of the glass - notable especially in studio-made recordings - and provides an ambience that is appropriately ghostly and evocative...