CHOPIN: Piano Concerto No. 1 in E Minor, Op. 11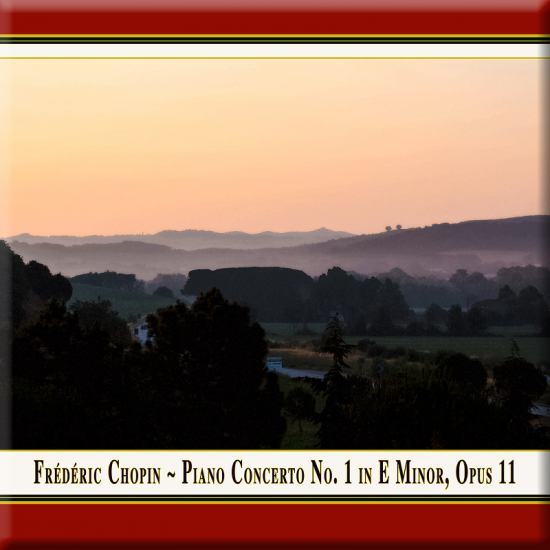 EUR 6,65
Frédéric Chopin:
Piano Concerto No. 1
in E Minor, Op. 11
The version for Piano & String Orchestra
Franz Vorraber ~ Piano & Conducting
Castle Chamber Orchestra

Concert Grand Piano: Steinway & Sons D-274 (No. 597417)
A concert recording from Bad Homburg Castle (Germany)

HD Recording · DDD · Duration: 41 Min. 29 Sec.
Digital Album · 3 Tracks · incl. Booklet
1 x
21:18
€ 2.85
by Frédéric Chopin, performed by Franz Vorraber & the Castle Chamber Orchestra
x
1 x
9:47
€ 1.90
by Frédéric Chopin, performed by Franz Vorraber & the Castle Chamber Orchestra
x
1 x
10:23
€ 1.90
by Frédéric Chopin, performed by Franz Vorraber & the Castle Chamber Orchestra
x
1 x
€ 0.00
by Frédéric Chopin, performed by Franz Vorraber & the Castle Chamber Orchestra
x

Streaming, Lossless- & High-Definition-Downloads via
Work(s) & Performance
C
hopin loves singing and as a singing poet of the piano, he inveigles into the universe of dreams. Chopin composed the piano concerto in e minor at the age of 20 during spring/summer of 1830 in Warsaw. It emerged shortly after his concerto in f minor and belongs to the standard repertoire of concert literature. In fall 1830, Chopin left Warsaw to go to Paris. This work is based mainly on polish dancing rhythms; especially prominent is the krakowiak in the last movement. Eventually, his work is characterized by its exceptional cantability. Chopin writes opera for the piano. He most likely performed this concerto himself in Warsaw in the same string casting it can be heard here.
Franz Vorraber
C
astles and palaces have always been stimulating human fantasy, just think of the tales of Cinderella and Sleeping Beauty. These connotations are also shaping musical compositions, in fabulous - simply romantic music. Beautiful creations that are able to express joy, love, sorrow and grief; silence as well as jubilance, melancholia as well as exaltation to today's audience no less that 500 years ago, differing not in time, but in a mode of feeling and perception that depends on composer, artist, performance space and - last but not least - you, dear audience. Therefore we choose the motto "Centuries of Romance" for our "Castle Concerts Series", and, to be honest: castles and romance, that fits quite nicely.
Giving a stage to this thought is the next step. We invited Franz Vorraber in his capacity as a pianist, composer and romanticist to plan and, eventually, to realize the present production. Franz built a beautiful concertant bridge from the 18th century to his specially created contemporary composition, and arranged it for piano and string quartet explicitly according to our visions. The work is being performed by the composer as both artist and conductor with an orchestra carefully selected by himself - the result is stunning. But just lean back and listen for yourself…
Josef-Stefan Kindler
View more releases with works by
Performer(s)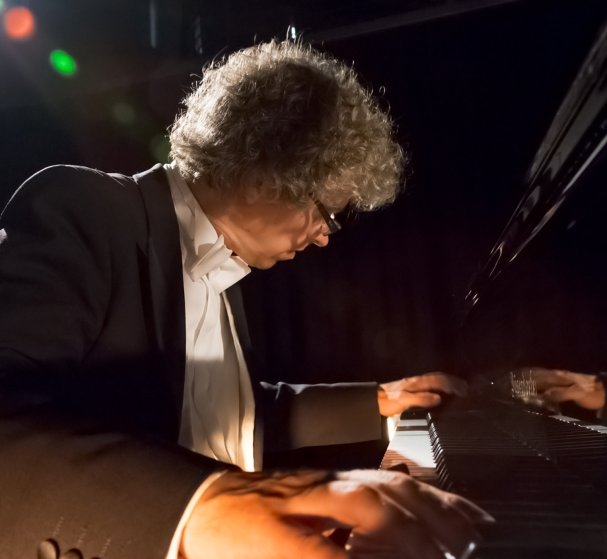 F
ranz Vorraber is one of the internationally renowned interpreters of Schumann. He repeatedly performed the complete solo oeuvre in cycles of twelve concertos and was published it in a thirteen-part CD recording at Thorofon, receiving numerous international awards and honors. Being born in Graz, his studies have been shaped by the First Viennese School and the German School, and he graduated with a soloist diploma and unanimous decoration. Franz Vorraber was invited as soloist to internationally famous festivals as the Viennese Musiksommer, the piano festival Ruhr, the music festival Schleswig Holstein, the Mozartfest Würzburg, the Mendelson fest in Leipzig, the Klosterfestspiele Maulbronn, the Musiksommer of Chorin, the European Weeks of Passau, the Frankfurter Feste, the festival Santander, the Schubertiade, the Rheingau music festival, the Hohenloher Kultursommer, the Bebersee festival et cetera. He worked with conductors like Dennis Russell Davies, Fabio Luisi, Alun Francis, Gabriel Feltz, Mar Tardue or Marcus Bosch. His repertoire of piano concerts includes 50 different concerts, many of them have been have been released on CD. His own works as a composer have been increasingly performed lately. There have been many premieres of pieces of chamber music at the Mendelson Fest at the Gewandhaus or at the Schumann Fest in Bonn in cooperation with the blowers of the Staatskapelle Berlin and musicians of the Gewandhaus Leipzig. A great success was the premiere of his first piano concerto at the Klosterkonzerte Maulbronn. Some works of piano were published by Thorofon and by K&K Verlagsanstalt, i. a. "Sentences of Love" in cooperation with the poet and writer Peter Härtling.
T
he Castle Chamber Orchestra has been individually assembled by Franz Vorraber due to this production to guarantee the best body of sound possible for the arrangement and the composition. We named the orchestra after our series "Castle Concerts", in which framework this concerto has been performed and recorded.
Concert Master: Barbara Kummer-Buchberger (Frankfurt)
Violins: Barbara Kummer-Buchberger (Frankfurt), Yuri Uomizu (Wiesbaden), Corinna Freibott (Bad Bocklet), Yana Luzman (Würzburg), Hwoyeong Lee (Wiesbaden), Florian Bartl (Friedrichsdorf), Julia Muginstein (Würzburg), Paul Hartwein (Oberursel), Clara Holzapfel (Wiesbaden)
Violas: Hiltrud Hampe (Frankfurt), Konstantin Molodchinin (Würzburg), Ulrike Kruttschnitt (Würzburg)
Cellos: Bernhard Zapp (Bonn), Jan Ickert (Frankfurt)
Double Bass: Susan Lutz (Würzburg)
Series & Edition
P
ublishing Authentic Classical Concerts entails for us capturing and recording outstanding performances and concerts for posterity. The performers, audience, opus and room enter into an intimate dialogue that in its form and expression, its atmosphere, is unique and unrepeatable. It is our aim, the philosophy of our house, to enable the listener to acutely experience every facet of this symbiosis, the intensity of the performance, so we record the concerts in direct 2-Track Stereo digital HD. The results are unparalleled interpretations of musical and literary works, simply - audiophile snapshots of permanent value. Flourishing culture, enthralling the audience and last but not least also you the listener, are the values we endeavor to document in our editions and series.
Music that is new, pieces worth listening to and well worth conserving, little treasures from the traditional and the avantgarde - music that is unimaginable anywhere else but in the hotbed of Europe - we capture these in our Castle Concerts Series of recordings in their original settings in cooperation with Volker Northoff.
The concert grand piano is incontestably the king of instruments. We could now wax lyrical about its incomparable dynamics and go into its ability to go from the tenderest of sounds in a soft minor key to the magnificent power of a fortissimo, or I could rhapsodise about its impressive size and elegance. But what makes this instrument really fascinating is its individuality, since each one is unique in itself - created by a master. A concert grand has a life all of its own that a virtuoso can really "get into" and hence bring the work of the composer to life. In our Grand Piano Masters Series, we get into the character and soul of the concert grand piano and experience, during the performance itself, the dialogue between the instrument, the virtuoso and the performance space.
Andreas Otto Grimminger & Josef-Stefan Kindler, K&K Verlagsanstalt