ROSETTI: Symphony in G Minor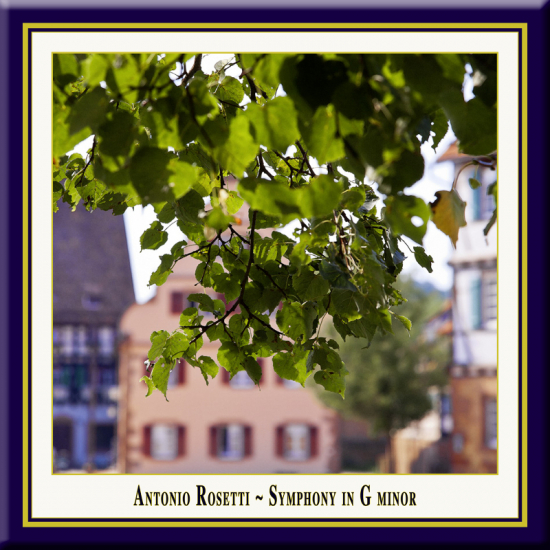 EUR 4,75
Antonio Rosetti (1750-1792):
Symphony in G Minor, A 42
performed by the
Wuerttemberg Chamber Orchestra
Conductor: Jörg Faerber
A concert recording from the church of the German
UNESCO World Heritage Site Maulbronn Monastery
HD Recording · DDD · Duration: 16 Min. 35 Sec.
Digital Album · 4 Tracks
1 x
∅ 7:07
€ 1.90
MP3 · 320kBit/sec.
by Antonio Rosetti, performed by the Wuerttemberg Chamber Orchestra. Conductor: Jörg Faerber
x
1 x
∅ 3:19
€ 0.95
MP3 · 320kBit/sec.
by Antonio Rosetti, performed by the Wuerttemberg Chamber Orchestra. Conductor: Jörg Faerber
x
1 x
∅ 3:16
€ 0.95
MP3 · 320kBit/sec.
by Antonio Rosetti, performed by the Wuerttemberg Chamber Orchestra. Conductor: Jörg Faerber
x
1 x
∅ 2:54
€ 0.95
MP3 · 320kBit/sec.
by Antonio Rosetti, performed by the Wuerttemberg Chamber Orchestra. Conductor: Jörg Faerber
x

Streaming, Lossless- & High-Definition-Downloads via
Work(s) & Performance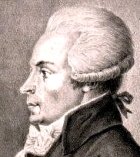 F
rancesco Antonio Rosetti (c. 1750 - 30 June 1792, born Franz Anton Rösler, changed to Italianate form by 1773) was a classical era composer and double bass player, and was a contemporary of Haydn and Mozart. The occasional disambiguation with a supposed, but non-existent, "Antonio Rosetti born 1744 in Milan", is due to an error by Ernst Ludwig Gerber in a later edition of his Tonkünstler-Lexikon having mistaken Rosetti for an Italian in the first edition of his own Lexikon, and therefore including Rosetti twice - once as an Italian, once as a German-Czech. Rosetti was born about 1750 in Litoměřice, a town in Northern Bohemia. He is believed to have received early musical training from the Jesuits in Prague. In 1773 Rosetti left his native country and found employment in the Hofkapelle of Prince Kraft Ernst of Oettingen-Wallerstein whom he served for sixteen years, becoming Kapellmeister in 1785. In July 1789 Rosetti left Wallerstein to accept the post of Kapellmeister to the Duke Friedrich Franz I of Mecklenburg-Schwerin in Ludwigslust where he died in service of the duke on 30 June 1792 at the age of 42 years. In 1777, he married Rosina Neher, with whom he had three daughters. In late 1781 he was granted leave to spend 5 months in Paris. Many of the finest ensembles in the city performed his works. Rosetti arranged for his music to be published, including a set of six symphonies published in 1782. He returned to his post, assured of recognition as an accomplished composer. Rosetti wrote over 400 compositions, primarily instrumental music including many symphonies and concertos which were widely published. Rosetti also composed a significant number of vocal and choral works, particularly in the last few years of his life. Among these are German oratorios including Der sterbende Jesu and Jesus in Gethsemane (1790) and a German Hallelujah. The English music historian Charles Burney included Rosetti among the most popular composers of the period in his work A General History of Music. Rosetti is perhaps best known today for his horn concertos, which Mozart scholar H. C. Robbins Landon suggests (in The Mozart Companion) may have been a model for Mozart's four horn concertos. Rosetti is also known for writing a Requiem (1776) which was performed at a memorial for Mozart in December 1791. Attributing some music to Rosetti is difficult because several other composers with similar names worked at the same time, including Franciscus Xaverius Antonius Rössler.
View more releases with works by
Performer(s)
T
he Wuerttemberg Chamber Orchestra Heilbronn (Württembergisches Kammerorchester Heilbronn) has been together since 1960. Performances range from Baroque works, classical (also in symphonic cast), string compositions of the Romanesque period and early modernity, as well as avant-garde works. The orchestra plays at all relevant concert halls around the globe on large tours or at individual concerts with soloists such as Anne-Sophie Mutter, Maurice André, Alfred Brendel, James Galway, Viktoria Mullova, Frank Peter Zimmermann, Thomas Quasthoff, Martha Argerich and Sharon Kam. In addition, the orchestra places special emphasis on co-operation with fresh young soloists.
J
örg Faerber, Head Conductor of the Wuerttemberg Chamber Orchestra Heilbronn, was born in Stuttgart where he later received his degree in conducting at the state conservatory (Staatliche Hochschule für Musik). After an eight-year career as a theatre bandmaster and composer for opera and movie, he founded the Wuerttemberg Chamber Orchestra Heilbronn in 1961, which, under his direction, grew to become one of Europe's leading chamber orchestras. He is regarded as one of the most renowned conductors of his time. In 1984 Jörg Faerber was awarded the German Federal Cross of Merit, and, in 1986, the academic title of Professor.
Series & Edition
P
ublishing Authentic Classical Concerts entails for us capturing and recording outstanding performances and concerts for posterity. The performers, audience, opus and room enter into an intimate dialogue that in its form and expression, its atmosphere, is unique and unrepeatable. It is our aim, the philosophy of our house, to enable the listener to acutely experience every facet of this symbiosis, the intensity of the performance, so we record the concerts in direct 2-Track Stereo digital HD. The results are unparalleled interpretations of musical and literary works, simply - audiophile snapshots of permanent value. Flourishing culture, enthralling the audience and last but not least also you the listener, are the values we endeavor to document in our editions and series.
The concerts at the UNESCO World Heritage Maulbronn Monastery supply the ideal conditions for our aspirations. It is, above all, the atmosphere of the romantic, candle-lit arches, the magic of the monastery in its unadulterated sublime presence and tranquillity that impresses itself upon the performers and audience of these concerts. Renowned soloists and ensembles from the international arena repeatedly welcome the opportunity to appear here - enjoying the unparalleled acoustic and architectural beauty of this World Heritage Site, providing exquisite performances of secular and sacred music, documented by us in our Maulbronn Monastery Edition.
Andreas Otto Grimminger & Josef-Stefan Kindler, K&K Verlagsanstalt

HI-RES AUDIO
Awarded by Qobuz with the HI-RES AUDIO