GRAUPNER: Viola Concerto in D Major, GWV 314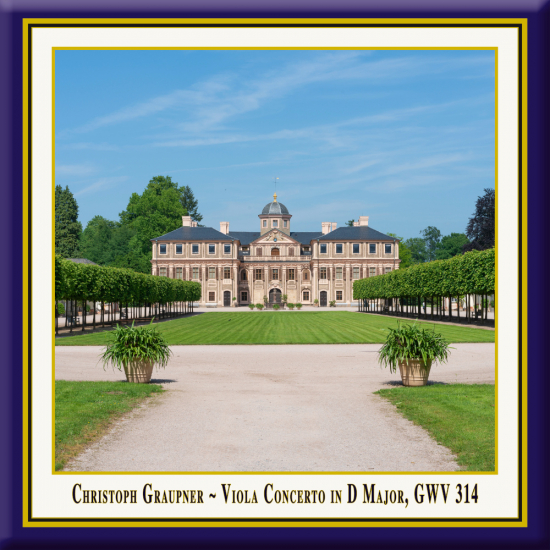 EUR 2,85
Christoph Graupner (1683-1760):
Viola Concerto in D Major
GWV 314
Performed by the Quantz Collegium
feat. Agata Zieba (Viola)
A live recording from Rastatt Favorite Palace in Germany
HD Recording · DDD · Duration: 11:02
Digital Album [here: MP3/320kBit/sec.]
3 Tracks · Digital Booklet
1 x
∅ 3:23
€ 0.95
MP3 · 320kBit/sec.
by Christoph Graupner, performed by the Quantz Collegium feat. Agata Zieba (Viola)
x
1 x
∅ 3:04
€ 0.95
MP3 · 320kBit/sec.
by Christoph Graupner, performed by the Quantz Collegium feat. Agata Zieba (Viola)
x
1 x
∅ 4:33
€ 0.95
MP3 · 320kBit/sec.
by Christoph Graupner, performed by the Quantz Collegium feat. Agata Zieba (Viola)
x
1 x
∅ 11 P.
€ 0.00
PDF
by Christoph Graupner, performed by the Quantz Collegium feat. Agata Zieba (Viola)
x

Streaming, Lossless- & High-Definition-Downloads via
Concert Location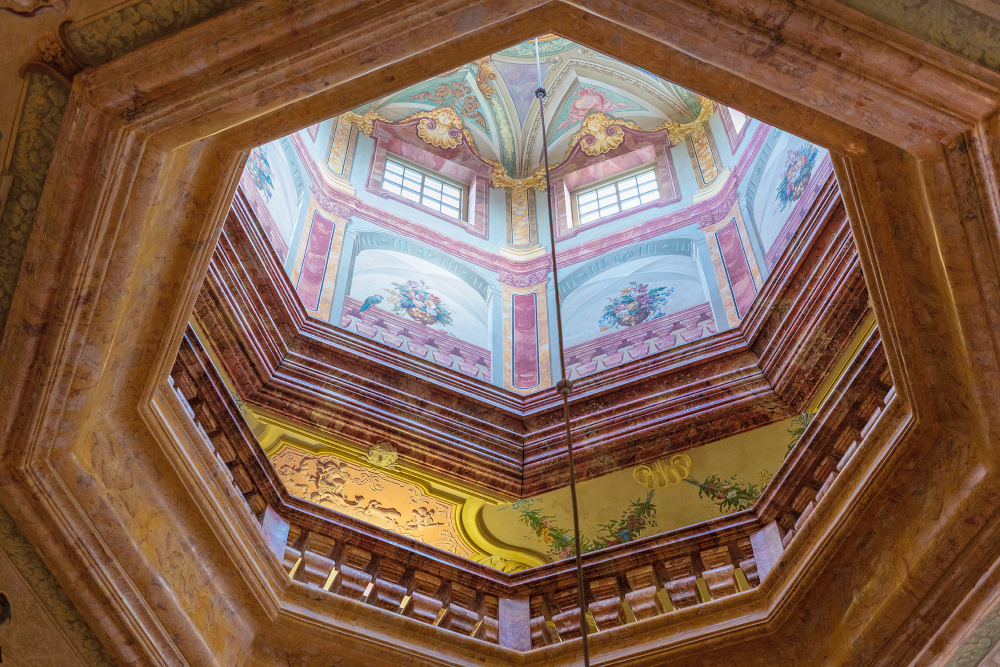 R
astatt Favorite Palace (Schloss Favorite Rastatt) is the oldest German "porcelain palace" and the only one to survive almost unchanged to this day. Its opulent interiors, extensive collections and idyllic setting lend it Europewide significance. This enchanting Baroque summer residence and hunting palace was built from 1710 to 1727 for the young Margravine Sibylla Augusta of Baden-Baden (1675-1733). At Favorite Palace, which is just a short carriage ride from Rastatt Residential Palace, the court met for festivities involving hunting, concerts and banquets.
No expense was spared on the palace interiors, which are replete with all forms of 18th century craftsmanship: colourful scagliola floors made from imitation marble, walls with faience tiles, ceilings adorned with plasterwork and frescoes, sumptuous embroidered tapestries and priceless furniture. As well as demonstrating Sibylla Augusta's exquisite taste, this opulence served to portray her as a refined and cultured ruler. The jewel in the crown is the Florentiner Kabinett (Florentine room), which is still in its original condition and the only one of its kind in Europe. 758 panels cover the walls in a kaleidoscope of colour. Crafted from marble, granite and semiprecious stones, with breathtaking perfection, each panel is a work of art in its own right.
To accompany the magnificent décor, Sibylla Augusta amassed an unparalleled collection of Asian and European porcelain, glass and faience - earning the title "porcelain palace". Much admired by her contemporaries, the Margravine's astonishing hoard survives to this day. It is now the world's largest collection of early Meissen porcelain. Favorite Palace also offers a dazzling display of Chinoiserie in all its forms. Textiles, lacquer and ceramics bear witness to early 18th century Europe's penchant for all things Asian.
With its perfectly preserved 18th century interiors, Favorite Palace is a cultural heritage site of extraordinary significance. The building is surrounded by a charming English-style landscape park. In the Margravine's day, the gardens featured tree-lined avenues, symmetrical parterres with fountains and orangeries. Some of these Baroque garden features have survived, making a stroll through the park a delightful exercise.
Copyright of this text by www.schloss-favorite-rastatt.de. All rights reserved.

This concert took place in the "Sala Terrena" (Garden Hall) of the Rastatt Favorite Palace in Germany - an highly unusual ballroom, which extends through all floors of the building. The palace and the garden are one of 60 historic monuments in the Germany's Southwest. The "State Organisation for Palaces and Gardens of Baden-Württemberg" (in German: "Staatliche Schlösser und Gärten Baden-Württemberg") makes accessible, communicate, develops and preserves these state-owned historic monuments with the aim of preserving the authenticity of the cultural heritage, filling them with life and preserving them for future generations. Detailed information about these unique "Soundscapes" can be found at: www.schloesser-und-gaerten.de
Work(s) & Performance
C
hristoph Graupner (13 January 1683 in Kirchberg - 10 May 1760 in Darmstadt) was a German harpsichordist and composer of high Baroque music who was a contemporary of Johann Sebastian Bach, Georg Philipp Telemann and George Frideric Handel. Born in Hartmannsdorf near Kirchberg in Saxony, Graupner received his first musical instruction from his uncle, an organist named Nicolaus Kuester. Graupner went to the University of Leipzig where he studied law (as did many composers of the time) and then completed his musical studies with Johann Kuhnau, the cantor of the Thomasschule (St. Thomas School). In 1705 Graupner left Leipzig to play the harpsichord in the orchestra of the Hamburg Opera under the direction of Reinhard Keiser, alongside George Frideric Handel, then a young violinist. In addition to playing the harpsichord, Graupner composed six operas in Hamburg, some of them in collaboration with Keiser, a popular composer of operas in Germany. In 1709 Graupner accepted a post at the court of Hesse-Darmstadt and in 1711 became the court orchestra's Hofkapellmeister (court chapel master). Graupner spent the rest of his career at the court in Hesse-Darmstadt, where his primary responsibilities were to provide music for the court chapel. He wrote music for nearly half a century, from 1709 to 1754, when he became blind. He died six years later... [From Wikipedia, the free encyclopedia]
View more releases with works by
Performer(s)
T
he first founding of the Quantz Collegium dates back to 1936, when the then 22-year-old flutist Ernst Friedrich Wilhelm Bodensohn (1914-2003) founded a chamber music ensemble and gave him the name of the "father" of the German flute history, Johann Joachim Quantz. The 2nd World War destroyed all further plans. After the war, Bodensohn became the first solo flutist of the newly founded SWR-Symphony-Orchestra in Baden-Baden and lived there with his family. In addition to his orchestral work under the conductors Hans Rosbaud (1895-1962) and Ernest Bour (1913-2001), he founded in the 1950s with colleagues once again the Quantz Collegium. After discovering the wonderful "Favorite Palace" near Rastatt in Germany, he succeeded with great commitment in 1957 for the first time to perform the "Festive Serenades at Rastatt Favorite Palace". The today since more than 60 years existing concert series is charcterized by one particular aspect: The less known composers of the Baroque and Classical periods should be made accessible to the public by confrontating them with the great, unforgettable masters of music history.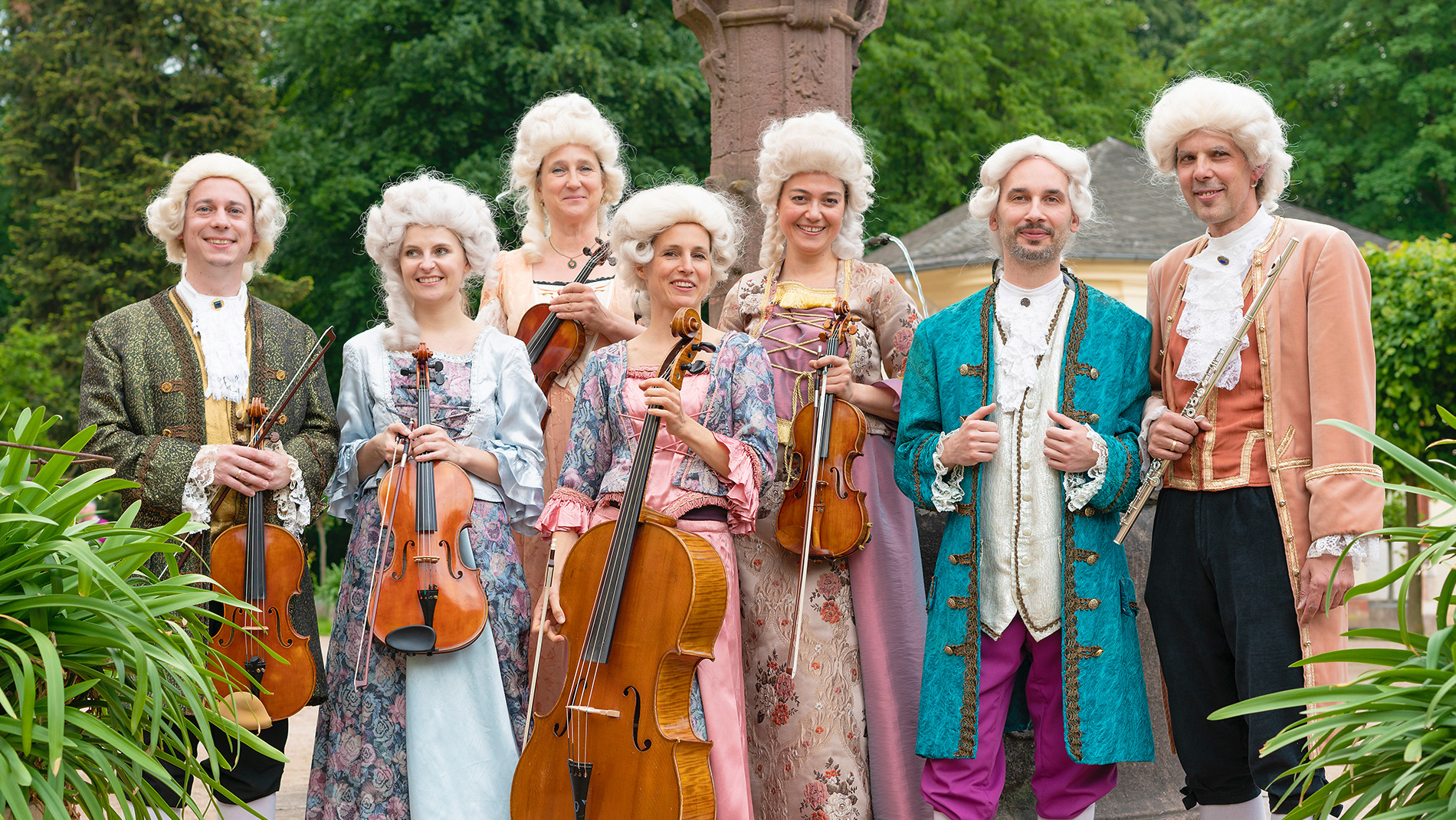 Jochen Baier ~ Flute & Artistic Leading
Boriana Baleff & Gundula Jaene ~ Violin · Agata Zieba & Kilian Ziegler ~ Viola
Regina Wilke ~ Cello · Slobodan Jovanovic ~ Harpsichord
Furthermore, the historical ensemble of the namesake Johann Joachim Quantz at the court of Frederick II. is role model and obligation for a further focus on musical content: The performance of flute music from the Baroque and the Classical era. With these two programmatic weightings, it has now been possible to achieve an extraordinary variety and longevity with this concert series. An inner desire of the ensemble is the helping to preserve the music of the past in its great diversity and to offer it to the public with living performances. The concerts in the splendid "Sala Terrena" (Garden Hall) of the "Rastatt Favorite Palace" (Schloss Favorite Rastatt), combined with the "historical" costumes of the musicians, resulted in the today's special reputation of the concert series and its almost historical dimension.
Since 1982 Jochen Baier has been flutist and since 1991 flutist and leader of the ensemble. Under his direction, the ensemble has developed a wealth of programs through the variety of participating musicians and through intensive researches in libraries and archives. More than 2000 different compositions were performed during this time. During 540 concerts so far (until 2017), about 300 different composers were musically introduced and their curriculum vitae were presented in the historical context with text explanations. So far the concerts have been performed by more than 150 different musicians. Some of whom participated in one concert only. Others, as member of the ensemble, influenced the concert series with their activity through years or decades. View more information (in German) under: www.festliche-serenaden.de.
Series & Edition
P
ublishing Authentic Classical Concerts entails for us capturing and recording outstanding performances and concerts for posterity. The performers, audience, opus and room enter into an intimate dialogue that in its form and expression, its atmosphere, is unique and unrepeatable. It is our aim, the philosophy of our house, to enable the listener to acutely experience every facet of this symbiosis, the intensity of the performance, so we record the concerts in direct 2-Track Stereo digital HD. The results are unparalleled interpretations of musical and literary works, simply - audiophile snapshots of permanent value. Flourishing culture, enthralling the audience and last but not least also you the listener, are the values we endeavor to document in our editions and series.
Andreas Otto Grimminger & Josef-Stefan Kindler, K&K Verlagsanstalt