Mozart: Piano Concerto No. 17 in G Major, K.453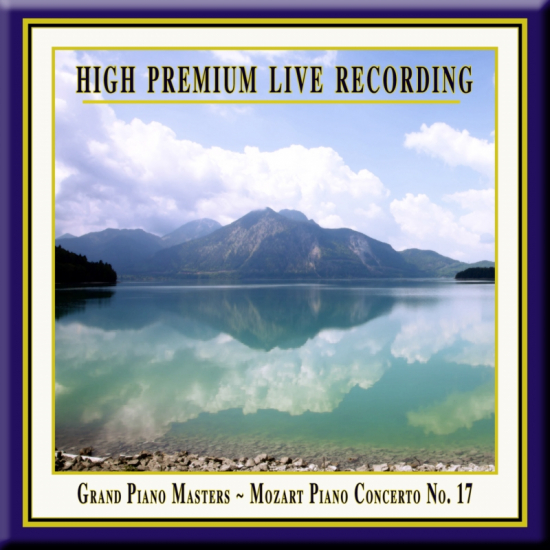 EUR 3,80
Wolfgang Amadeus Mozart (1756-1791):
Piano Concerto No. 17
in G Major, K. 453
Christoph Soldan ~ Concert Grand Piano
Cappella Istropolitana
Conductor: Pawel Przytocki
A live recording from the church of the German
UNESCO World Heritage Site Maulbronn Monastery
DDD · Total Length: 28 Min. 05 Sec.
Digital Music Album [here: MP3/320kBit/sec.] · 3 Tracks
1 x
∅ 11:36
€ 1.90
MP3 · 320kBit/sec.
by Wolfgang Amadeus Mozart, performed by Christoph Soldan & Cappella Istropolitana. Conductor: Pawel Przytocki.
x
1 x
∅ 9:11
€ 0.95
MP3 · 320kBit/sec.
by Wolfgang Amadeus Mozart, performed by Christoph Soldan & Cappella Istropolitana. Conductor: Pawel Przytocki.
x
1 x
∅ 7:16
€ 0.95
MP3 · 320kBit/sec.
by Wolfgang Amadeus Mozart, performed by Christoph Soldan & Cappella Istropolitana. Conductor: Pawel Przytocki.
x


Streaming, Lossless- & High-Definition-Downloads via
Work(s) & Performance

T
he Piano Concerto No. 17 in G major, KV. 453, by Wolfgang Amadeus Mozart, was written in 1784. The work is orchestrated for solo piano, flute, two oboes, two bassoons, two horns, and strings. As is typical with concerti, it is in three movements: Allegro, Andante and Allegretto - Presto. According to the date that the composer himself noted on the score, the concerto was completed on April 12, 1784. The date of the premiere is uncertain. In one view, the work is said to have been premiered by Mozart's student Barbara Ployer on June 13, 1784, at a concert to which Mozart had invited Giovanni Paisiello to hear both her and his new compositions, including also his recently written Quintet in E flat for Piano and Winds. Afterwards, Ployer was joined by Mozart in a performance of the Sonata for Two Pianos, K. 448. Another possibility, advanced by Lorenz, is that Mozart did not wait over two months to premiere the work, but performed it in his concert with Regina Strinasacchi on 29 April 1784 at the Kärntnertortheater. As a general consensus for researchers, it can be said with relative certainty that the work premiered during the mid-to-late spring of 1784, following its completion.
View more releases with works by
Series & Edition
P
ublishing Authentic Classical Concerts entails for us capturing and recording outstanding performances and concerts for posterity. The performers, audience, opus and room enter into an intimate dialogue that in its form and expression, its atmosphere, is unique and unrepeatable. It is our aim, the philosophy of our house, to enable the listener to acutely experience every facet of this symbiosis, the intensity of the performance, so we record the concerts in direct 2-Track Stereo digital HD. The results are unparalleled interpretations of musical and literary works, simply - audiophile snapshots of permanent value. Flourishing culture, enthralling the audience and last but not least also you the listener, are the values we endeavor to document in our editions and series.
The concerts at the UNESCO World Heritage Maulbronn Monastery supply the ideal conditions for our aspirations. It is, above all, the atmosphere of the romantic, candle-lit arches, the magic of the monastery in its unadulterated sublime presence and tranquillity that impresses itself upon the performers and audience of these concerts. Renowned soloists and ensembles from the international arena repeatedly welcome the opportunity to appear here - enjoying the unparalleled acoustic and architectural beauty of this World Heritage Site, providing exquisite performances of secular and sacred music, documented by us in our Maulbronn Monastery Edition.
The concert grand piano is incontestably the king of instruments. We could now wax lyrical about its incomparable dynamics and go into its ability to go from the tenderest of sounds in a soft minor key to the magnificent power of a fortissimo, or I could rhapsodise about its impressive size and elegance. But what makes this instrument really fascinating is its individuality, since each one is unique in itself - created by a master. A concert grand has a life all of its own that a virtuoso can really "get into" and hence bring the work of the composer to life. In our Grand Piano Masters Series, we get into the character and soul of the concert grand piano and experience, during the performance itself, the dialogue between the instrument, the virtuoso and the performance space.
Andreas Otto Grimminger & Josef-Stefan Kindler, K&K Verlagsanstalt

***** Stunning acoustics
This monastery is world famous. Spectacular decay, luminous sound, superb performances... Try this series and see what you think.