Mozart · Piano Concertos I · Nos. 17 & 23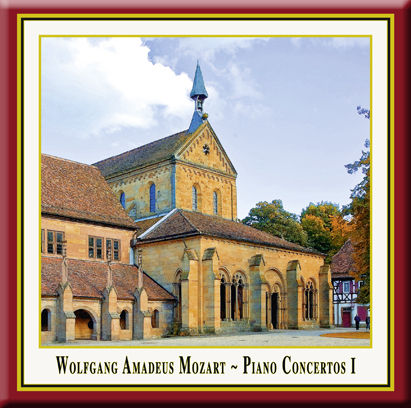 Wolfgang Amadeus Mozart:
Piano Concertos I
Wolfgang Amadeus Mozart:
Concerto No. 17 in G Major, K. 453
& Concerto No. 23 in A Major, K. 488

Christoph Soldan (Piano)
Cappella Istropolitana
Conductor: Pawel Przytocki

Concert recording from the church of the
UNESCO World Heritage Site Maulbronn Monastery

CD · DDD · c. 60 Minutes


Streaming, Lossless- & High-Definition-Downloads via
More Details
The Vienna piano concertos between 1782 and 1786 are seen as the most eminent instrumental compositions of Wolfgang Amadeus Mozart´s life work. He created a new musical form through the use of comprehensive musical ideas in reference of the themes, the originality and the equality of the interaction between soloist and orchestra. That is an extraordinary achievement of Mozart particularly in this part of his life - maybe as a result of his failed opera plans before - in view of the many concerts he played as one of the most asked pianists of Vienna and the multitude of students he taught during this period. It is documented, for example, that Mozart performed in the genesis year of the g major concerto (1784) at least 23 concerts during a period of 46 days. He also composed 6 piano-concertos and taught a stately quantity of students during the same year... Therefore these two works are carried by love of life cause of this outer success - profound but life-affirmatively, sometimes melancholic, yes even tragic, however by no means resigning.


Exactly these disputes with the intellectual density and psychological dimension of Mozart´s works make Christoph Soldan´s interpretations uniquely. Soldan studied with Prof. Eliza Hansen as well as Christoph Eschenbach at the Hamburg music university and attained his international success through a concert tour with Leonard Bernstein in the summer 1989. Since than he performs concerts as soloist of various renowned orchestras in Europe, the USA, Mexico and Japan. In addition to technical perfection, it is his concentration on the depth of the interpretation and the atmospheric transparency, which makes Soldan´s concerts very valuable.


Christoph Soldan combines a long-standing cooperation with the Polish conductor Pawel Przytocki. Przytocki works since 1999 as a constant guest conductor of the radio symphony orchestra Krakau and perfomed with the Budapest Concert Orchestra, the Orchestra Sinfonica de Xalapa in Mexico, the Real Philharmonia de Galicia in Spain and the Cappella Istropolitana.

The Capella Istropolitana with his transparent string sound in accordance with the historical performance practice is virtually predestined for these concerti. This orchestra is seen as one of the most prestigious ensembles for historical music and look back to more than 70 cd-productions - two these releases were honored with platinum.

A concert-recording from September 14th, 2001 at the Maulbronn monastery church by A.O. Grimminger and J.S. Kindler in cooperation with Jürgen Budday.
Works, Movements & Tracklist
Wolfgang Amadeus Mozart (1756-1791):
Piano Concerto No. 17 in G Major, K. 453
1. I. Allegro ~ 2. II. Andante ~ 3. III. Allegretto
Wolfgang Amadeus Mozart (1756-1791):
Piano Concerto No. 23 in A Major, K. 488
4. I. Allegro ~ 5. II. Adagio ~ 6. III. Allegro assai
Johann Sebastian Bach:
7. Jesu, Joy of Man's Desiring
'Jesu bleibet meine Freude' from the Cantata BWV 147
Produced by Andreas Otto Grimminger & Josef-Stefan Kindler.
Soundengineer : Andreas Otto Grimminger.
Mastering: Andreas Otto Grimminger & Josef-Stefan Kindler.
Artwork & Coverdesign: Josef-Stefan Kindler.

***** Stunning acoustics
This monastery is world famous. Spectacular decay, luminous sound, superb performances... Try this series and see what you think.

A wonderful Disc
This wonderful disc recorded in the splendor of the Maulbronn Monastery continues to cement K&K's reputation as a purveyor of quality classical music. Their Mozart piano concerto series has so far been quite exquisite on all counts this time with Christoph Soldan at the piano.
KV453 floats along quite merrily, especially in the broad Finale which has the Capella Istropolitana playing like angels, ably directed by Pawel Przytocki. The same goes for KV488, one of the miracles of Mozart's piano concertos which can easily hold its own with former greats in the genre such as Wilhelm Kempff and Géza Anda.
My only gripe in this series is the paucity of notes which accompany the issues otherwise both recording and interpretation are of impeccable quality throughout. Those who are collecting this fine series really need not hesitate in any way and should go ahead with purchasing this issue.