K&K Impressions · Baroque Arias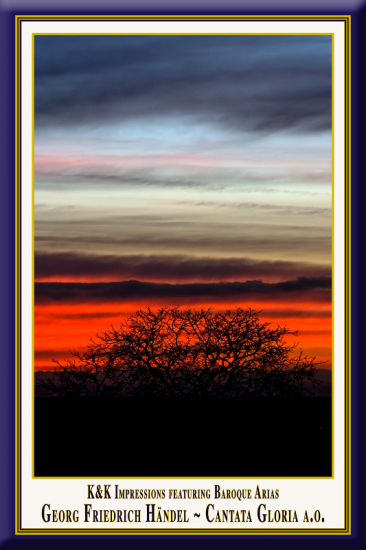 K&K Impressions
Baroque Arias
Visual impressions by Josef-Stefan Kindler featuring Baroque Arias,
performed according to the traditions of the time
by Sarah Wegener (Soprano) and the Ensemble il capriccio,
including the sacred solo cantata for Soprano & Strings "Gloria" (HWV deest)
by George Frideric Handel and arias by Ferrandini and Purcell

12 Chapters · Runtime: c. 44 Minutes
Chapters & Tracklist
George Frideric Handel (1685-1759)
Gloria (Cantata, HWV deest)
1. I. Gloria in excelsis Deo
2. II. Et in terra pax - III. Laudamus te
3. IV. Domine Deus, Rex coelestis
4. V. Qui tollis peccata mundi
5. VI. Quoniam tu solus sanctus
Anonymous
6. Auld Lang Syne
Scottish folk song after the poem by Robert Burns (1759-1796)
George Frideric Handel (1685-1759)
7. Lascia ch'io pianga
Aria of Almirena from "Rinaldo", HWV 7a
Lyrics by Giacomo Rossi after "La Gerusalemme liberata" by Torquato Tasso (1544-1595)
Henry Purcell (1659-1695)
8. When I am laid (Dido's Lament)
Aria of Dido from "Dido and Aeneas", Z. 626
Lyrics by Nahum Tate (1652-1715)
Giovanni Battista Ferrandini (1710-1791)
9. Se d'un Dio
from the cantata "Il pianto di Maria"
So far ascribed to George Frideric Handel as HWV 234
George Frideric Handel (1685-1759)
10. Se pietà di me non senti
Aria of Cleopatra from "Giulio Cesare in Egitto", HWV 17
Lyrics by Nicola Francesco Haym (1678-1729)
Henry Purcell (1659-1695)
11. Fantasy upon a Ground, Z. 731
George Frideric Handel (1685-1759)
12. Eternal source of light divine
Aria from "Ode for the Birthday of Queen Anne", HWV 74
Lyrics by Ambrose Philips (1674-1749)

Josef-Stefan Kindler ~ Images, Art, Direction, Movie & Music Producer
Andreas Otto Grimminger ~ Sound Engineer & Music Producer
Music Performer(s)
S
arah Wegener enthrals listeners with the richness and warmth of her voice and approaches every role in a chamber musical way. She regularly works with Kent Nagano, Philippe Herreweghe, Thomas Hengelbrock, Heinz Holliger, Michael Hofstetter and Frieder Bernius. Concerts have taken her to the Schleswig-Holstein Musik Festival, Rheingau Music Festival, Konzerthaus Berlin, Tonhalle Zürich, Wiener Konzerthaus, Concertgebouw Amsterdam, Casa da Música Porto and to the Bozar Brussels. The British-German soprano studied singing with Prof. Jaeger-Böhm in Stuttgart and took part in masterclasses with Dame Gwyneth Jones and Renée Morloc. She has formed a close artistic relationship with the composer Georg Friedrich Haas. She was nominated for 'Singer of the Year' by Opernwelt magazine in 2011 for her interpretation of the main role of Nadja in his opera Bluthaus, which she performed at the Schwetzinger SWR Festival, Wiener Festwochen and Staatstheater Saarbrücken. In the 2015/16 season she made her debuts at the Royal Opera House London and Deutsche Oper Berlin in his new opera Morgen und Abend. In 2014 she was also highly praised for the world premiere of Jörg Widmann's Labyrinth III at the Kölner Philharmonie with the WDR Symphony Orchestra under Emilio Pomàrico. Her repertoire includes Handel's Messiah, Mozart's Mass in C minor, Schumann's Faust Scenes, Dvorak's Stabat Mater and Strauss' Four Last Songs. Furthermore, she enjoys frequent performances with the Deutsche Kammerphilharmonie Bremen, Kristiansand Symphony Orchestra, Orchestre des Champs-Élysées/Collegium Vocale Gent, NDR Symphony Orchestra, Orchestre Symphonique de Montréal, Philharmonisches Staatsorchester Hamburg, Kammerorchester Basel and Radio Filharmonisch Orkest. Her discography comprises recordings with Frieder Bernius of arias by Justin Heinrich Knecht (Carus), Korngold's Die stumme Serenade (CPO) and Schubert's Lazarus (Carus), as well as Rossini's Petite Messe solennelle under Tonu Kaljuste (Carus), a CD with the Stuttgart Radio Symphony Orchestra under Heinz Holliger (Hänssler Classic) and a release of Handel's Israel in Egypt with the Maulbronn Chamber Choir under Jürgen Budday (K&K Verlagsanstalt).
F
ounded in 1999, the ensemble il capriccio evolved into a personally, stylistically and musically very individual ensemble. Its members, meeting up from all over middle Europe for mutual working sessions are outstanding musicians of international ensembles and professional orchestras or teachers at a conservatory. All musicians of Il Capriccio have intensively occupied themselves since their studies with historically informed performance. The usage of original instruments only constitutes the sounding foundation for an extremely meaningful and vivid way of musical interacting on stage. Il Capriccio gives concerts in variable instrumentation from the size of a baroque orchestra to the classical string quartet consisting of the principals of the ensemble. The solo part for violin plays the art director Friedemann Wezel. Additionally, Il Capriccio cooperates with important artists such as Sergio Azzolini (bassoon) or Markus Brönnimann (flute). A further and exceptional obligation considering the educational support of young artists was accepted by the 2004 founding of the "Il Capriccio Strings Academy".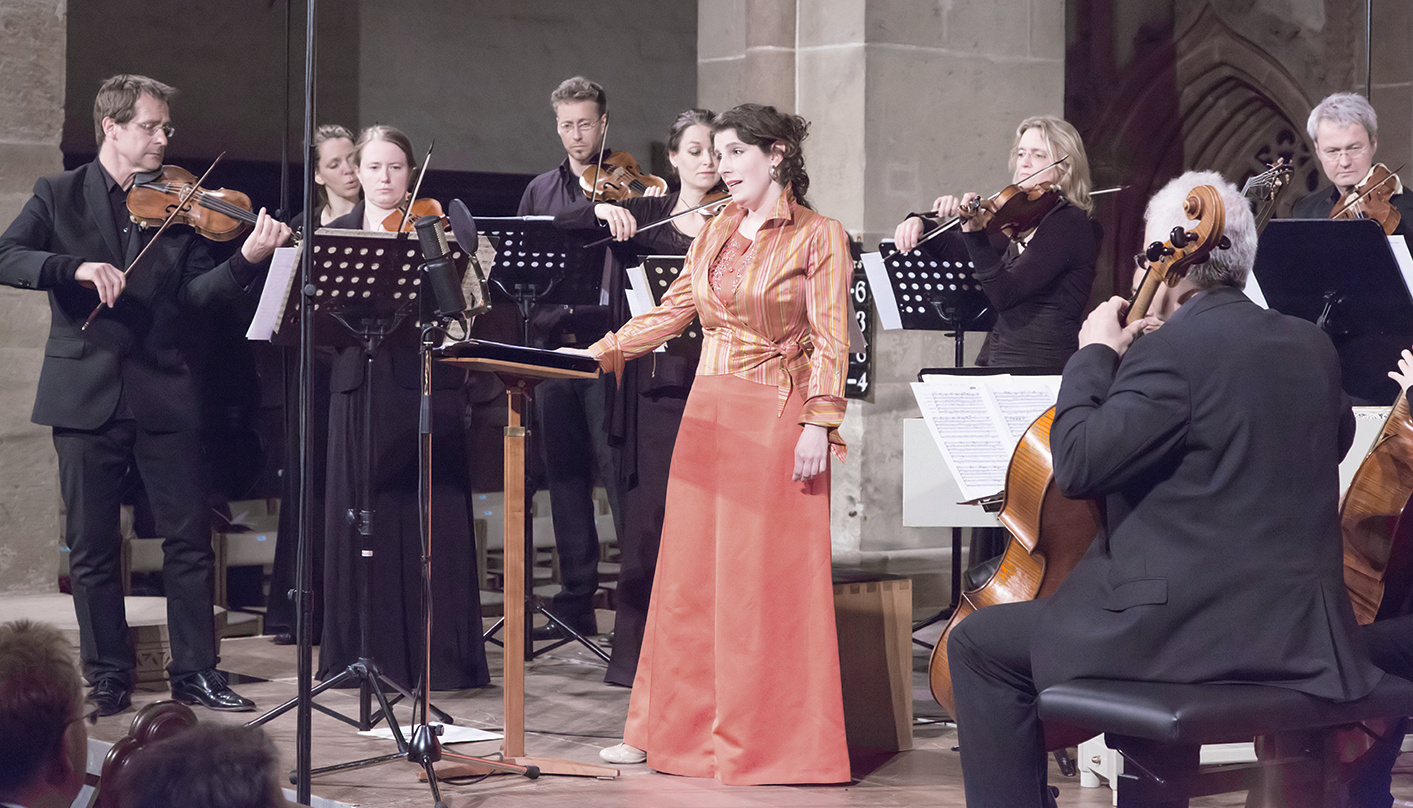 Ensemble il capriccio
Violin & Concertmaster: Friedemann Wezel
Violin I: Marieke Bouche, Steffen Hamm, Christine Trinks
Violin II: Dietlind Mayer, Smadar Schidlowsky, Konstanze Winkelmann
Viola: David Dieterle, Johannes Platz · Cello: Juris Teichmanis, Judith Wagner
Double Bass: Kit Scotney · Harpsichord: Evelyn Laib · Lute: Toshinori Ozaki
Series & Edition
P
ublishing Authentic Classical Concerts entails for us capturing and recording outstanding performances and concerts for posterity. The performers, audience, opus and room enter into an intimate dialogue that in its form and expression, its atmosphere, is unique and unrepeatable. It is our aim, the philosophy of our house, to enable the listener to acutely experience every facet of this symbiosis, the intensity of the performance, so we record the concerts in direct 2-Track Stereo digital HD. The results are unparalleled interpretations of musical and literary works, simply - audiophile snapshots of permanent value. Flourishing culture, enthralling the audience and last but not least also you the listener, are the values we endeavor to document in our editions and series.
The concerts at the UNESCO World Heritage Maulbronn Monastery supply the ideal conditions for our aspirations. It is, above all, the atmosphere of the romantic, candle-lit arches, the magic of the monastery in its unadulterated sublime presence and tranquillity that impresses itself upon the performers and audience of these concerts. Renowned soloists and ensembles from the international arena repeatedly welcome the opportunity to appear here - enjoying the unparalleled acoustic and architectural beauty of this World Heritage Site, providing exquisite performances of secular and sacred music, documented by us in our Maulbronn Monastery Edition.
Andreas Otto Grimminger & Josef-Stefan Kindler, K&K Verlagsanstalt

Beautiful

Very beautiful
"muito lindo"