Romantic Piano · Vol. 1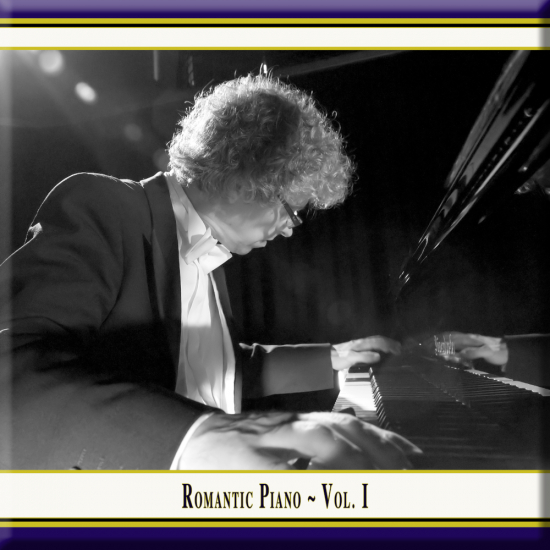 Compilation
Romantic Piano · Vol. 1
Live recordings featuring works for Piano and for Piano with Orchestra
by Mozart, Tchaikovsky, Bach, Chopin, Brahms, Schubert & Schumann
HD Recordings · DDD · Duration: c. 58 Minutes
11 Tracks incl. Digital Booklet

Available for streaming, as lossless download and high-definition download via
Work(s) & Performance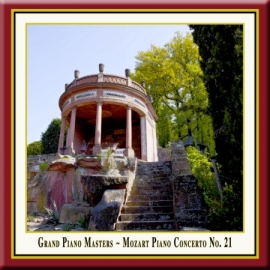 The Piano Concerto No. 21 in C Major, K. 467 "Elvira Madigan", by Wolfgang Amadeus Mozart (1756-1791)
The Piano Concerto No. 21 in C major, K. 467, was completed on 9 March 1785 by Wolfgang Amadeus Mozart, four weeks after the completion of the previous D minor concerto, K. 466. The concerto has three movements. The famous Andante, in the subdominant key of F major, is in three parts. The opening section is for orchestra only and features muted strings. The first violins play with a dreamlike melody over an accompaniment consisting of second violins and violas playing repeated-note triplets and the cellos and bass playing pizzicato arpeggios. All of the main melodic material of the movement is contained in this orchestral introduction, in either F major or F minor. The second section introduces the solo piano and starts off in F major. It is not a literal repeat, though, as after the first few phrases, new material is interjected which ventures off into different keys. When familiar material returns, the music is now in the dominant keys of C minor and C major. Then it modulates to G minor, then B-flat major, then F minor, which transitions to the third section of the movement. The third section begins with the dreamlike melody again, but this time in the relative key of F major's parallel key, A-flat major. Over the course of this final section, the music makes its way back to the tonic keys of F minor and then F major and a short coda concludes the movement. The second movement was featured in the 1967 Swedish film "Elvira Madigan". As a result, the piece has become widely known as the "Elvira Madigan concerto". Also Neil Diamond's song "Song Sung Blue" (1972) bases on a theme from the andante movement. (From Wikipedia, the Free Encyklopedia)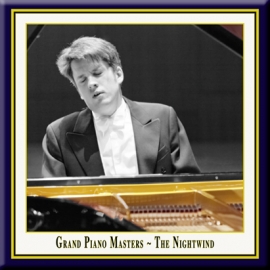 Six Pieces for Piano, Op. 19, by Pyotr Ilyich Tchaikovsky (1840-1893)
Pyotr Ilyich Tchaikovsky is considered as the most important Russian composer of the 19th century. The Six Pieces for Piano, Op. 19, were composed in 1873.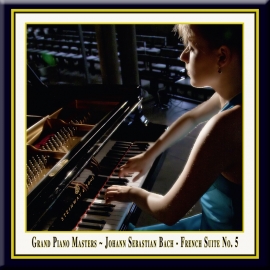 The French Suite No. 5 in G Major, BWV 816, by Johann Sebastian Bach (1685-1750)
The French Suites, BWV 812-817, are six suites which Johann Sebastian Bach wrote for the clavier (harpsichord or clavichord) between the years of 1722 and 1725. Although Suites Nos. 1 to 4 are typically dated to 1722, it is possible that the first was written somewhat earlier. The suites were later given the name "French" (first recorded usage by Friedrich Wilhelm Marpurg in 1762). Likewise, the English Suites received a later appellation. The name was popularised by Bach's biographer Johann Nikolaus Forkel, who wrote in his 1802 biography of Bach, "One usually calls them French Suites because they are written in the French manner." This claim, however, is inaccurate: like Bach's other suites, they follow a largely Italian convention. There is no surviving definitive manuscript of these suites, and ornamentation varies both in type and in degree across manuscripts. The courantes of the first (in D minor) and third (in B minor) suites are in the French style, the courantes of the other four suites are all in the Italian style. In any case, Bach also employed dance movements (such as the polonaise of the sixth suite) that are foreign to the French manner. Usually, the swift second movement after the allemande is named either courante (French style) or corrente (Italian style), but in all these suites the second movements are named courante, according to the Bach catalog listing, which supports the suggestion that these suites are "French". Some of the manuscripts that have come down to us are titled "Suites Pour Le Clavecin", which is what probably led to the tradition of calling them "French" Suites. (From Wikipedia, the free encyclopedia)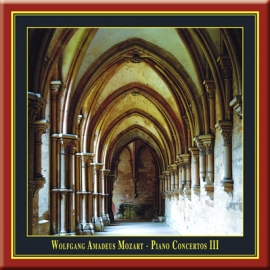 The Piano Concerto No. 20 in D Minor, K. 466, by Wolfgang Amadeus Mozart (1756-1791)
The Piano Concerto No. 20 in D minor, K. 466, was composed by Wolfgang Amadeus Mozart in 1785. The first performance took place at the Mehlgrube Casino in Vienna on 11 February 1785, with the composer as the soloist. A few days after the first performance, the composer's father, Leopold, visiting in Vienna, wrote to his daughter Nannerl about her brother's recent success: "[I heard] an excellent new piano concerto by Wolfgang, on which the copyist was still at work when we got here, and your brother didn't even have time to play through the rondo because he had to oversee the copying operation." It is written in the key of D minor. Other works by the composer in that key include the Fantasia K. 397 for piano, the Requiem, a Kyrie, a mass, the aria "Der Hölle Rache kocht in meinem Herzen" from the opera "The Magic Flute" and parts of the opera "Don Giovanni". It is the first of two piano concertos written in a minor key (No. 24 in C minor being the other). The young Ludwig van Beethoven admired this concerto and kept it in his repertoire. Composers who wrote cadenzas for it include Beethoven (WoO 58), Charles-Valentin Alkan, Johannes Brahms (WoO 14), Johann Nepomuk Hummel, Ferruccio Busoni, and Clara Schumann. One of Mozart's favorite pianos that he played while he was living in Vienna had a pedal-board that was operated with the feet, like that of an organ. This piano that Mozart owned is on display at Mozart House in Salzburg, but currently it has no pedal-board. The fact that Mozart had a piano with a pedal-board is reported in a letter written by his father, Leopold, who visited his son while he lived in Vienna. Among Mozart's piano works, none are explicitly written with a part for a pedal-board. However, according to Leopold's report, at the first performance of Piano Concerto No. 20 in D Minor (K. 466), Mozart, who was the soloist and conductor, used his own piano, equipped with a pedal-board. Presumably the pedal-board was used to reinforce the left-hand part, or add lower notes than the standard keyboard could play. Because Mozart was also an expert on the organ, operating a pedal-board with his feet was no harder than using only his hands. The concerto is scored for solo piano, flute, two oboes, two bassoons, two horns, two trumpets, timpani and strings. (From Wikipedia, the free encyclopedia)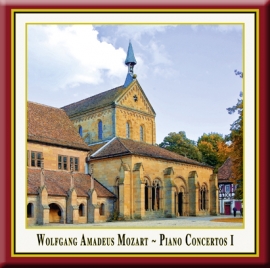 "Jesu, Joy of Man's Desiring" by Johann Sebastian Bach (1685-1750)
"Jesu, Joy of Man's Desiring" (or simply "Joy") is the most common English title of a piece of music derived from a chorale setting of the cantata "Herz und Mund und Tat und Leben, BWV 147" ("Heart and Mouth and Deed and Life"), composed by Johann Sebastian Bach in 1723. The same music on different stanzas of a chorale closes both parts of the cantata. A transcription by the English pianist Myra Hess (1890–1965) was published in 1926 for piano solo and in 1934 for piano duet.[1] It is often performed slowly and reverently at wedding ceremonies, as well as during Christian festive seasons like Christmas and Easter. Bach composed a four-part setting with independent orchestral accompaniment of two stanzas of the hymn "Jesu, meiner Seelen Wonne", written by Martin Janus in 1661, which was sung to a melody by the violinist and composer Johann Schop, "Werde munter, mein Gemüthe". The movements conclude the two parts of the cantata. Bach scored the chorale movements (6 and 10) from "Herz und Mund und Tat und Leben" for choir, trumpet, violin, optionally oboe, viola, and basso continuo. (From Wikipedia, the free encyclopedia)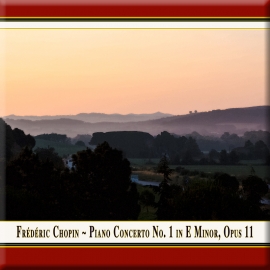 The Piano Concerto No. 1 in E Minor, Op. 11, by Frédéric Chopin (1810-1849)
Chopin loves singing and as a singing poet of the piano, he inveigles into the universe of dreams. Chopin composed the piano concerto in e minor at the age of 20 during spring/summer of 1830 in Warsaw. It emerged shortly after his concerto in f minor and belongs to the standard repertoire of concert literature. In fall 1830, Chopin left Warsaw to go to Paris. This work is based mainly on polish dancing rhythms; especially prominent is the krakowiak in the last movement. Eventually, his work is characterized by its exceptional cantability. Chopin writes opera for the piano. He most likely performed this concerto himself in Warsaw in the same string casting it can be heard here. (Franz Vorraber)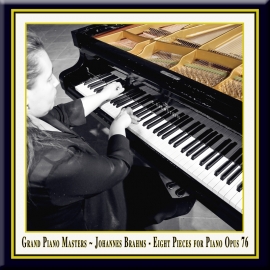 8 Pieces for Piano, Op. 76, by Johannes Brahms (1833-1897)
The 8 Piano Pieces op. 76 by Johannes Brahms comprise four Capriccios and Intermezzi each. With this collection of character pieces, published in February 1879, Brahms came forward again after a long time with a work for solo piano, which was premiered by Hans von Bülow in Berlin on October 29, 1879. While he had already composed the first Capriccio in 1871, he wrote the remaining pieces in 1878 in Pörtschach on Lake Wörth. The collection, originally divided into two booklets, shows the influence of Robert Schumann and Frédéric Chopin, whose complete editions published by Breitkopf & Härtel Brahms supervised at this time. In condensed form, the mostly three-part pieces already point to the internalized late style of Opera 116 to 119, whose characteristics include the multi-layered piano movement, chromaticism, and rhythmic refinements. The piano pieces appeared only after Brahms had not written any independent solo piano works for an extended period. After the Paganini Variations published in 1866, the Waltzes for piano four hands op. 39, which he held in high esteem, and the first part of the Hungarian Dances, initially also written for four hands, there was a long pause in publication in this field, which ended only in 1879. For Andrea Bonatta this shows how difficult it was for Brahms to find new expressive possibilities after the pianistic explorations of the virtuoso Handel and Paganini Variations. For the pianist, chamber musician and gifted sight-reading player, this phase did not mean that he would have completely abandoned the piano. In addition to the Waltzes and Hungarian Dances, he wrote the Sonata for Piano and Violoncello op 38, the Liebeslieder Waltzes op 52, the version for two pianos of his Haydn Variations op 56b, the Piano Quartet No. 3 in C minor op 60 and the Neue Liebeslieder op 65 during this period. In 1878, he also began to work on his symphonic Second Piano Concerto in B flat major; the piano thus played an important role in chamber and later concertante music. (From Wikipedia, the free encyclopedia - Translated with www.DeepL.com/Translator)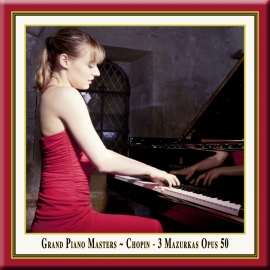 The 3 Mazurkas, Op. 50, by Frédéric Chopin (1810-1849)
Chopin's "Mazurkas" - he wrote at least 69 Mazurkas - are based on a traditional Polish folk dance in triple meter with an accent on the third or on the second beat, called "Mazurek". Chopin started composing his mazurkas in 1825, and continued composing them until 1849, the year of his death.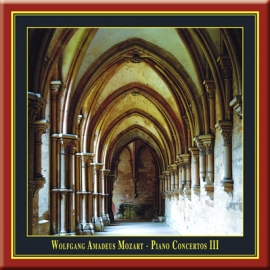 The Piano Concerto No. 16 in D Major, K. 451, by Wolfgang Amadeus Mozart (1756-1791)
The Piano Concerto No. 16 in D major, K. 451, is a concertante work for piano, or pianoforte, and orchestra by Wolfgang Amadeus Mozart. Mozart composed the concerto for performance at a series of concerts at the Vienna venues of the Trattnerhof and the Burgtheater in the first quarter of 1784, where he was himself the soloist. Mozart noted this concerto as complete on 22 March 1784 in his catalog, and performed the work later that month. Cliff Eisen has postulated that this performance was on 31 March 1784. The work is orchestrated for solo piano, flute, two oboes, two bassoons, two horns, two trumpets, timpani and strings. (From Wikipedia, the free encyclopedia)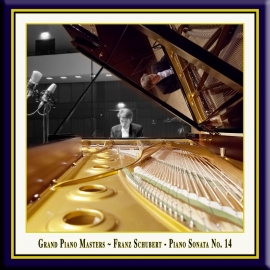 The Piano Sonata No. 14 in A Minor by Franz Schubert (1797-1828)
Franz Schubert's Piano Sonata in A minor, D 784 (posthumously published as Op. 143), is one of Schubert's major compositions for the piano. Schubert composed the work in February 1823, perhaps as a response to his illness the year before. It was however not published until 1839, eleven years after his death. It was given the opus number 143 and a dedication to Felix Mendelssohn by its publishers. The D 784 sonata, Schubert's last to be in three movements, is seen by many to herald a new era in Schubert's output for the piano, and to be a profound and sometimes almost obsessively tragic work. (From Wikipedia, the free encyclopedia)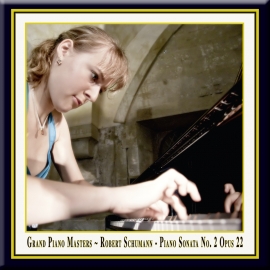 The Piano Sonata No. 2 in G Minor, Op. 22, by Robert Schumann (1810-1856)
The Piano Sonata No. 2 in G minor, Op. 22 was composed by Robert Schumann from 1830 to 1838. It was his last full-length attempt at the sonata genre, the other completed ones being the Piano Sonata No. 1 in F sharp minor (Op. 11) and the Piano Sonata No. 3 in F minor (Op. 14); he later wrote Three Piano Sonatas for the Young Op. 118. Because it was published before the F minor sonata, it was given an earlier sequence number (No. 2) but still kept its later opus number (Op. 22). This has caused confusion, and recordings of the G minor Sonata have sometimes been published as "Sonata No. 3". There was also an earlier sonata in F minor, which Schumann abandoned; this is sometimes referred to as "Sonata No. 4". Among his sonatas, this one is very frequently performed and recorded. Because of its great variety and highly virtuosic demands, it is enjoyed both by audiences and performers alike. Clara Schumann claimed to be "endlessly looking forward to the second sonata", but nevertheless Robert revised it several times. At Clara Schumann's request, the original finale, marked Presto passionato was replaced with a less difficult movement in 1838. The Andantino of the sonata is based on Schumann's early song "Im Herbste"; Jensen describes the first movement as having "a concern with motivic structure". It is dedicated to Schumann's friend the pianist Henriette Voigt and was published in September 1839. (From Wikipedia, the free encyclopedia)
View more releases with works by
Series & Edition
P
ublishing Authentic Classical Concerts entails for us capturing and recording outstanding performances and concerts for posterity. The performers, audience, opus and room enter into an intimate dialogue that in its form and expression, its atmosphere, is unique and unrepeatable. It is our aim, the philosophy of our house, to enable the listener to acutely experience every facet of this symbiosis, the intensity of the performance, so we record the concerts in direct 2-Track Stereo digital HD. The results are unparalleled interpretations of musical and literary works, simply - audiophile snapshots of permanent value. Flourishing culture, enthralling the audience and last but not least also you the listener, are the values we endeavor to document in our editions and series.
The concert grand piano is incontestably the king of instruments. We could now wax lyrical about its incomparable dynamics and go into its ability to go from the tenderest of sounds in a soft minor key to the magnificent power of a fortissimo, or I could rhapsodise about its impressive size and elegance. But what makes this instrument really fascinating is its individuality, since each one is unique in itself - created by a master. A concert grand has a life all of its own that a virtuoso can really "get into" and hence bring the work of the composer to life. In our Grand Piano Masters Series, we get into the character and soul of the concert grand piano and experience, during the performance itself, the dialogue between the instrument, the virtuoso and the performance space.
Andreas Otto Grimminger & Josef-Stefan Kindler, K&K Verlagsanstalt
Works, Movements & Tracklist
Wolfgang Amadeus Mozart (1756-1791):
Piano Concerto No. 21 in C Major, K. 467 "Elvira Madigan"
1. II. Andante (6:02)
Performed by Christoph Soldan (Piano)
and the Silesian Chamber Orchestra,
conducted by Pawel Przytocki
Pyotr Ilyich Tchaikovsky (1840-1893):
6 Pieces for Piano, Op. 19
2. No. 4: Nocturne (3:47)
Performed by Severin von Eckardstein (Piano)
Johann Sebastian Bach (1685-1750):
French Suite No. 5 in G Major, BWV 816
3. III. Sarabande (3:25)
Performed by Magdalena Müllerperth (Piano)
Wolfgang Amadeus Mozart (1756-1791):
Piano Concerto No. 20 in D Minor, K. 466
4. II. Romance (8:14)
Performed by Cristina Marton (Piano)
and the Württemberg Chamber Orchestra,
conducted by Ruben Gazarian
Johann Sebastian Bach (1685-1750):
5. Jesu, Joy of Man's Desiring (3:46)
"Jesus bleibet meine Freude"
from the Cantata "Heart and Mouth and Deed and Life", BWV 147
Performed by Christoph Soldan (Piano)
Frédéric Chopin (1810-1849):
Piano Concerto No. 1 in E Minor, Op. 11
(Version for Piano & String Orchestra)
6. II. Romance (9:51)
Performed by Franz Vorraber (Piano & Conducting)
and the Castle Concerts Orchestra
Johannes Brahms (1833-1897):
8 Pieces for Piano, Op. 76
7. No. 3: Intermezzo in A-Flat Major (2:40)
Performed by Lilya Zilberstein (Piano)
Frédéric Chopin (1810-1849):
3 Mazurkas, Op. 50
8. No. 3: Mazurka No. 32 in C-Sharp Minor. Moderato (5:15)
Performed by Magdalena Müllerperth (Piano)
Wolfgang Amadeus Mozart (1756-1791):
Piano Concerto No. 16 in D Major, K. 451
9. II. Andante (6:05)
Performed by Cristina Marton (Piano)
and the Württemberg Chamber Orchestra,
conducted by Ruben Gazarian
Franz Schubert (1797-1828):
Piano Sonata No. 14 in A Minor, D. 784, Op.posth.143
10. II. Andante (4:03)
Performed by Severin von Eckardstein (Piano)
Robert Schumann (1810-1856):
Piano Sonata No. 2 in G Minor, Op. 22
11. II. Andantino (4:45)
Performed by Magdalena Müllerperth (Piano)
Sound & Recording Engineer: Andreas Otto Grimminger
Production & Mastering: Andreas Otto Grimminger & Josef-Stefan Kindler
Photography, Artwork & Coverdesign: Josef-Stefan Kindler