Romantic Strings · Vol. 2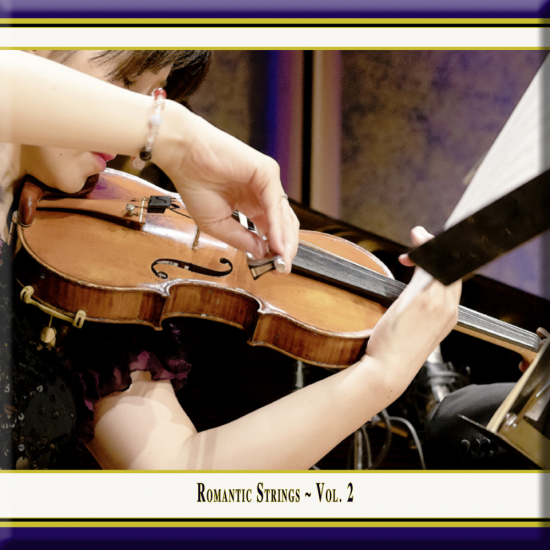 Compilation
Romantic Strings · Vol. 2
Live recordings from Maulbronn Monastery and Bad Homburg Castle
featuring works for Strings and for Orchestra
by Dvorak, Bach, Vivaldi, Mozart, Telemann, Beethoven, Ferrandini & Gounod
HD Recording · DDD · Duration: c. 58 Minutes
11 Tracks incl. Digital Booklet

Available for streaming, as lossless download and high-definition download via
Work(s) & Performance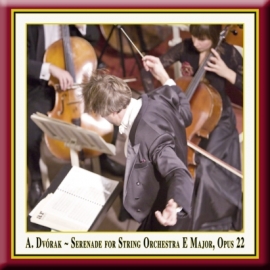 The Serenade for Strings in E Major, Op. 22 / B. 52,
by Antonín Dvořák (1841-1904)
Antonín Dvořák's Serenade for Strings in E major, Op. 22 was composed in just two weeks in May 1875. It remains one of the composer's more popular orchestral works to this day. 1875 was a fruitful year for Dvořák, during which he wrote his Symphony No. 5, String Quintet No. 2, Piano Trio No. 1, the opera Vanda, and the Moravian Duets. These were happy times in his life. His marriage was young, and his first son had been born. For the first time in his life, he was being recognized as a composer and without fear of poverty. He received a generous stipend from a commission in Vienna, which allowed him to compose his Fifth Symphony and several chamber works as well as the Serenade. Dvořák is said to have written the Serenade in just 12 days, from 3-14 May. The piece was premiered in Prague on 10 December 1876 by Adolf Čech and the combined orchestras of the Czech and German theatres. It was published in 1877 in the composer's piano duet arrangement by Emanuel Starý in Prague. The score was printed two years later by Bote and Bock, Berlin. (From Wikipedia, the free encyclopedia)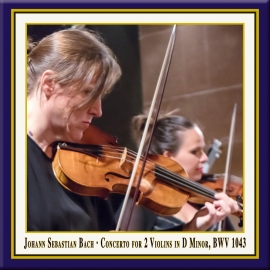 The Concerto for 2 Violins in D Minor, BWV 1043,
by Johann Sebastian Bach (1685-1750)
The Concerto for Two Violins, Strings, and Continuo in D minor, BWV 1043, also known as "The Double Violin Concerto", is perhaps one of the most famous works by Johann Sebastian Bach and considered among the best examples of the work of the late Baroque period. Bach may have written it between 1717 and 1723 when he was the Kapellmeister at the court of Anhalt-Köthen, Germany, though the work's performance materials for the Ordinaire Concerten that Bach ran as the Director of the Collegium Musicum in Leipzig are dated c. 1730–31. Later in 1739, in Leipzig, he created an arrangement for two harpsichords, transposed into C minor, BWV 1062. In addition to the two soloists, the concerto is scored for strings and basso continuo. The concerto is characterized by the subtle yet expressive relationship between the violins throughout the work. The musical structure of this piece uses fugal imitation and much counterpoint. (From Wikipedia, the free encyclopedia)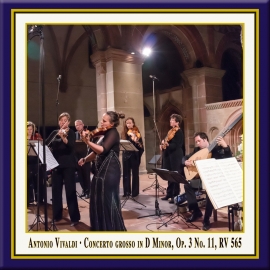 The Concerto Grosso in D Minor, Op. 3 No. 11, RV 565, from: "L'Estro Armonico",
by Antonio Vivaldi (1678-1741)
L'Estro Armonico (the harmonic inspiration), Antonio Vivaldi's Op. 3, is a set of 12 concertos for stringed instruments, first published in Amsterdam in 1711. Vivaldi's Twelve Trio Sonatas, Op. 1, and Twelve Violin Sonatas, Op. 2, only contained sonatas, thus L'estro armonico was his first collection of concertos appearing in print. It was also the first time he chose a foreign publisher, Estienne Roger, instead of an Italian. Each concerto was printed in eight parts: four violins, two violas, cello and continuo. The continuo part was printed as a figured bass for violone and harpsichord. The concertos belong to the concerto a 7 format, that is: for each concerto there are seven independent parts. In each consecutive group of three concertos, the first is a concerto for four violins, the second for two violins, and the third a solo violin concerto. The cello gets solistic passages in several of the concertos for four and two violins, so that a few of the concertos conform to the traditional Roman concerto grosso format where a concertino of two violins and cello plays in contrast to a string orchestra. L'estro armonico pioneered orchestral unisono in concerto movements. Vivaldi composed a few concertos specifically for L'estro armonico, while other concertos of the set had been composed at an earlier date. Vivaldi scholar Michael Talbot described the set as "perhaps the most influential collection of instrumental music to appear during the whole of the eighteenth century". L'estro armonico (the harmonic inspiration) was published as Antonio Vivaldi's Op. 3 in Amsterdam in 1711. Vivaldi's Op. 1 and Op. 2 had only contained sonatas, thus L'estro armonico was his first collection of concertos appearing in print. It was also the first time Vivaldi chose a foreign publisher, Estienne Roger, instead of an Italian. Vivaldi composed a few concertos specifically for L'estro armonico, while other concertos of the set had been composed at an earlier date. (From Wikipedia, the free encyclopedia)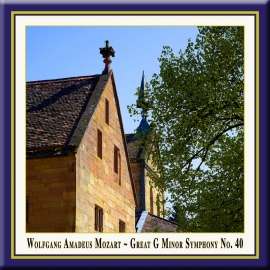 The Symphony No. 40 in G Minor, K. 550 "The Great G Minor Symphony",
by Wolfgang Amadeus Mozart (1756-1791)
The Symphony No. 40 in G minor, K. 550, was written by Wolfgang Amadeus Mozart in 1788. It is sometimes referred to as the "Great G minor symphony", to distinguish it from the "Little G minor symphony", No. 25. The two are the only extant minor key symphonies Mozart wrote.
The date of completion of this symphony is known exactly, since Mozart in his mature years kept a full catalog of his completed works; he entered the 40th Symphony into it on 25 July 1788. Work on the symphony occupied an exceptionally productive period of just a few weeks during which time he also completed the 39th and 41st symphonies (26 June and 10 August, respectively). Nikolaus Harnoncourt conjectured that Mozart composed the three symphonies as a unified work, pointing, among other things, to the fact that the Symphony No. 40, as the middle work, has no introduction (unlike No. 39) and does not have a finale of the scale of No. 41's. (From Wikipedia, the free encyclopedia)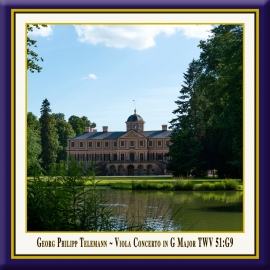 The Viola Concerto in G Major, TWV 51:G9,
by Georg Philipp Telemann (1681-1767)
Of Georg Philipp Telemann's surviving concertos, his Viola Concerto in G major, TWV 51:G9 is among his most famous, and still regularly performed today. It is the first known concerto for viola and was written circa 1716–1721. It consists of four movements:
Largo: A mellow movement with long notes. Written in 3/2, with many dotted quarter and eighth note slurs, and is in the key of G. Usually is played with vibrato. Some performers choose to add significant ornamentation to this very simple movement.
Allegro: Most played movement. Written in 4/4 and in the key of G. The melody begins with a distinctive syncopated figure which is also used independently later in the movement.
Andante: A slow, mellow movement in the relative minor and largely on the upper strings of the instrument.
Presto: A fast, exciting movement in the tonic key.
The fast movements contain very few slurs, and many performers' editions include slurring suggestions, often indistinguishable from markings contained in the original. The performer is encouraged to invent a varied pattern of slurs which fits the shape of each phrase.
The slow movements both give the option of a cadenza. A typical performance lasts about 14 minutes. (From Wikipedia, the free encyclopedia)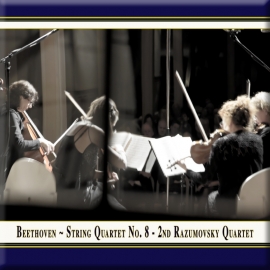 The String Quartet No. 8 in E Minor, Op. 59 No. 2 "2nd Razumovsky Quartet",
by Ludwig van Beethoven (1770-1827)
The String Quartet No. 8 in E minor, Op. 59, No. 2, was written by Ludwig van Beethoven and published in 1808. This work is the second of three of his ".Rasumovsky". cycle of string quartets, and is a product of his ".middle". It is in four movements... According to Carl Czerny, the second movement of the quartet occurred to Beethoven as he contemplated the starry sky and thought of the music of the spheres (Thayer, Life of Beethoven); it has a hymnlike quality reminiscent of a much later devotion, the "Heiliger Dankgesang" hymn to the Divine in the Quartet Op. 132. The scherzo movement of the quartet, the third movement (allegretto), uses a Russian theme also used by Modest Mussorgsky in Boris Godunov, by Anton Arensky in his String Quartet No. 2 in A Minor, and by Sergei Rachmaninoff in his 6 Morceaux for Piano Duet, Op. 11. The original song, "Glory to the Sun", was recorded by Nikolay Lvov and Jan Prac; sheet music was published in 1790 (second edition 1806), verses in the 1770s. However, Beethoven used it in an ungentle way. According to Kerman, "It sounds as though Count Razumovsky had been tactless enough to hand Beethoven the tune, and Beethoven is pile-driving it into the ground by way of revenge." In an extremely unusual example of melodic setting prior to the 20th century, portions of the tune with strong tonic harmonic leanings are harmonized with the dominant, and vice versa; the harmonic clash is harsh, and many listeners have found this portion of the quartet to be quite amusing, especially as contrasted with the prosaic, almost "exercise-book" counterpoint which precedes it (another example of Beethoven parodying a student counterpoint exercise can be found in the scherzo of the Quartet No. 10, opus 74). (From Wikipedia, the free encyclopedia)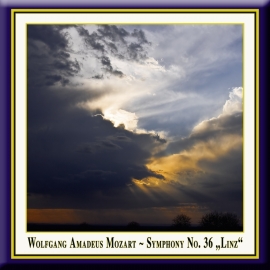 The Symphony No. 36 in C Major, K. 425 "Linz Symphony",
by Wolfgang Amadeus Mozart (1756-1791)
The Symphony No. 36 in C major, K. 425, (known as the "Linz Symphony") was written by Wolfgang Amadeus Mozart during a stopover in the Austrian town of Linz on his and his wife's way back home to Vienna from Salzburg in late 1783. The entire symphony was written in four days to accommodate the local count's announcement, upon hearing of the Mozarts' arrival in Linz, of a concert. The première in Linz took place on 4 November 1783. The composition was also premièred in Vienna on 1 April 1784. The autograph score of the "Linz Symphony" was not preserved. [From Wikipedia, the free encyclopedia]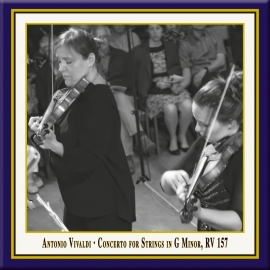 The Concerto for Strings in G Minor, RV 157,
by Antonio Vivaldi (1678-1741)
The first works of the "concerto" genre were actually intended to be performed by a large instrumental ensemble (string orchestra and basso continuo) and not by groups of soloists. It is not surprising, however, that the principal violin in such a large grouping soon demanded special tasks. From this, the dialogue between tutti and solo that dominates today finally developed. An early master of this type of composition and the driving force behind its development was the Italian Antonio Vivaldi. The Concerto in G minor RV 157 is still owed to the form without a real solo voice. It begins with a powerful movement in which the two violin parts are in dialogue. A strict largo with dotted rhythm is followed by the sweeping finale, which is somewhat reminiscent of the "summer" of the "Four Seasons". (Irene Schallhorn)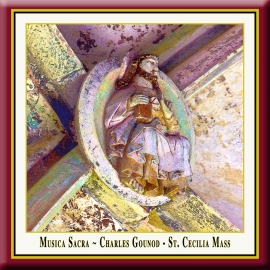 The Messe solennelle de Saint-Cécile (St. Cecilia Mass)
by Charles Gounod (1818-1893)
Charles Gounod has become famous for his opera "Margarete" above all. It is hardly known that his first passion was clerical music. The "Messe solennelle de Saint-Cécile" is worth to be called the most beautiful among his numerous clerical compositions. The work is distinguished by a maze of marvellous melodies, an extremly lined-up orchestra and the harmonious interconnection of solists and choir. The first staging of the mass was in November, 22. 1855 at St. Eustache in Paris. Gounod wrote the work for the celebration of St. Cecile, who is the patroness of clerical music. With certain instinct he combined the dramatic counterparts of clerical music and motifs and melodies of the Grand Opera. The plain covering figures of the orchestra above all give a uniform mood to the sets of the mass, which manifests itself in sacral dignity.




View more releases with works by
Series & Edition
P
ublishing Authentic Classical Concerts entails for us capturing and recording outstanding performances and concerts for posterity. The performers, audience, opus and room enter into an intimate dialogue that in its form and expression, its atmosphere, is unique and unrepeatable. It is our aim, the philosophy of our house, to enable the listener to acutely experience every facet of this symbiosis, the intensity of the performance, so we record the concerts in direct 2-Track Stereo digital HD. The results are unparalleled interpretations of musical and literary works, simply - audiophile snapshots of permanent value. Flourishing culture, enthralling the audience and last but not least also you the listener, are the values we endeavor to document in our editions and series.
The concerts at the UNESCO World Heritage Maulbronn Monastery supply the ideal conditions for our aspirations. It is, above all, the atmosphere of the romantic, candle-lit arches, the magic of the monastery in its unadulterated sublime presence and tranquillity that impresses itself upon the performers and audience of these concerts. Renowned soloists and ensembles from the international arena repeatedly welcome the opportunity to appear here - enjoying the unparalleled acoustic and architectural beauty of this World Heritage Site, providing exquisite performances of secular and sacred music, documented by us in our Maulbronn Monastery Edition.
Music that is new, pieces worth listening to and well worth conserving, little treasures from the traditional and the avantgarde - music that is unimaginable anywhere else but in the hotbed of Europe - we capture these in our Castle Concerts Series of recordings in their original settings in cooperation with Volker Northoff.
Andreas Otto Grimminger & Josef-Stefan Kindler, K&K Verlagsanstalt
Works, Movements & Tracklist
Antonín Dvořák (1841-1904):
Serenade for Strings, Op. 22, B. 52
1. IV. Larghetto [4:28]
Performed by the Beethoven Academy Orchestra,
conducted by Pawel Przytocki
Giovanni Battista Ferrandini (1710-1791):
2. Se d'un Dio (Instrumental Version) [0:46]
from the cantata "Il pianto di Maria",
so far ascribed to George Frideric Handel as HWV 234
Performed by the Ensemble il capriccio
Johann Sebastian Bach (1685-1750):
Concerto for 2 Violins in D Minor, BWV 1043
3. II. Largo ma non tanto [6:14]
Performed by the Lautten Compagney Berlin,
feat. Birgit Schnurpfeil & Julia Schröder (Solo-Violins)
Antonio Vivaldi (1678-1741):
Concerto Grosso in D Minor, Op. 3 No. 11, RV 565
4. II. Largo e spiccato [2:26]
From: "L'Estro Armonico"
Performed by the Lautten Compagney Berlin,
feat. Birgit Schnurpfeil & Matthias Hummel (Solo-Violins)
Wolfgang Amadeus Mozart (1756-1791):
Symphony No. 40 in G Minor, K. 550
"The Great G Minor Symphony"
5. I. Molto Allegro [6:02]
Performed by the Wuerttemberg Chamber Orchestra,
conducted by Jörg Faerber
Georg Philipp Telemann (1681-1767):
Viola Concerto in G Major, TWV 51:G9
6. I. Largo [3:30]
Performed by the Quantz Collegium,
feat. Kilian Ziegler (Viola)
Wolfgang Amadeus Mozart (1756-1791):
Symphony No. 40 in G Minor, K. 550
"The Great G Minor Symphony"
7. II. Andante [8:25]
Performed by the Wuerttemberg Chamber Orchestra,
conducted by Jörg Faerber
Ludwig van Beethoven (1770-1827):
String Quartet No. 8 in E Minor, Op. 59, No. 2
"2nd Razumovsky Quartet"
8. II. Molto Adagio [12:19]
Performed by the Rubin Quartet
Wolfgang Amadeus Mozart (1756-1791):
Symphony No. 36 in C Major, K. 425
"Linz Symphony"
9. II. Andante [8:48]
Performed by the Silesian Chamber Orchestra,
conducted by Pawel Przytocki
Antonio Vivaldi (1678-1741):
Concerto for Strings in G Minor, RV 157
10. II. Largo [1:39]
Performed by the Lautten Compagney Berlin
Charles Gounod (1818-1893):
Messe solennelle de Saint-Cécile
"St. Cecilia Mass"
11. IV. Offertorium [3:41]
Performed by members of the SWR-Symphony-Orchestra Baden-Baden & Freiburg,
conducted by Jürgen Budday
Live recordings from Maulbronn Monastery and Bad Homburg Castle
Sound & Recording Engineer: Andreas Otto Grimminger
Production & Mastering: Andreas Otto Grimminger & Josef-Stefan Kindler
Photography, Artwork & Coverdesign: Josef-Stefan Kindler

Kommentare bei YouTube
"Beautiful" (Alex Musa)
"Sublime ! Merciiii" (antonella dragoni)
"Through music you can.. 'INTUIT HAPPINESS IN ITSELF'... a good audio video... IS WORTH MORE THAN 1000 WORDS" (jacinto mesa zanon)